With summer travel square upon us, let's look at how we can protect ourselves. Sunscreen? Check. Bottles of water? In tow. Protection from people trying to steal your money and identity? Maybe not.

Identity theft. IRS imposters. Bogus bills. How can you
outsmart the scammers?
The AARP Fraud Watch Network keeps you in-the-know on how to protect you and your family from scams and fraud.
Did you know that every 2 seconds, someone's identity gets stolen. That's why AARP launched the Fraud Watch Network – to arm people of all ages with the tools they need to spot and avoid scams. Now is the perfect time to join AARP's free Fraud Watch Network so you can better protect yourselves and families this summer and all year round.

AARP's Fraud Watch Network is:

An Educator: Get real-time alerts about the latest scams, tips on how to spot them, and the inside scoop on how con artists think so you can outsmart them before they strike.
A Watchdog: Our nationwide scam tracking map gives you access to a network of people who've spotted scams and the opportunity to pass along your own experiences, so together we can beat con artists at their own game.
A Resource: Get connected to a real live person trained in how to avoid fraud and advise you if you or a loved one has been scammed by calling our fraud helpline or attending a forum in your community.
With the Fraud Watch Network you will also receive: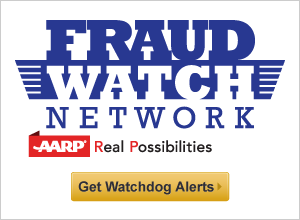 The Con Artist Playbook – interviews with con artists who reveal how they steal your hard-earned money; and
A fraud hotline you can call to talk to a trained volunteer for advice if you are worried you or a loved one has been scammed or if you suspect a scam in your community.
Best of all AARP's Fraud Watch Network is Free for Everyone: Anyone, of any age, can access our resources at no cost.








About AARP North Carolina