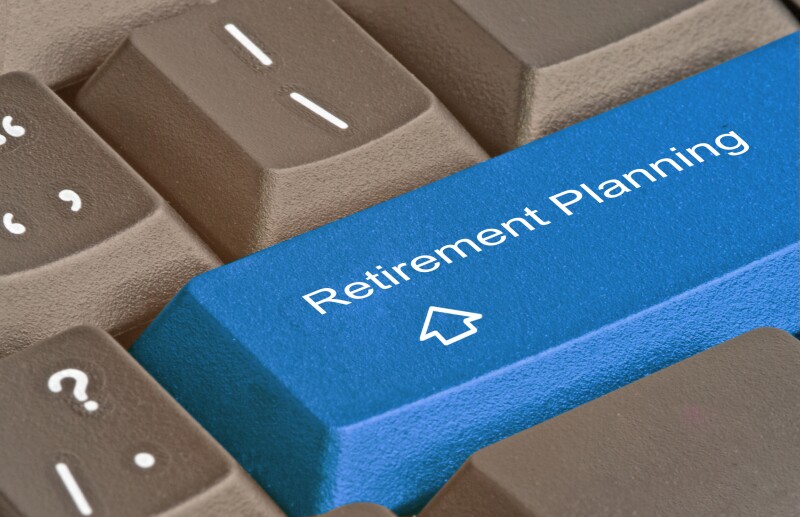 North Carolina is facing a retirement savings crisis that will leave far too many residents barely able to afford their basic needs in their later years.

Today, roughly half of private-sector workers in the state do not have access to a retirement savings plan at work. And if you work for a small business, you are even less likely to have a plan. About 53 percent of North Carolina's private sector employees—roughly 1,716,000—work for an employer that does not offer a retirement plan. For these workers, each passing day means less time to grow the savings they need to cover expenses and provide for their families in retirement.

While Social Security is a critical piece of the puzzle, it alone is not enough to depend on for a secure financial future. Without retirement savings, many North Carolina residents will have to rely solely on Social Security, and with an average annual benefit of $21,000 it's just not enough. In fact, one out of every two middle-class retirees will be unable to afford their basic needs in retirement - things like medicine, utilities, and rent.

So how can we help more people grow their retirement savings? The answer is simple: NC Work and Save.

Under NC Work and Save , House Bill 899, employers will have access to a low-cost, simple retirement savings option. Research shows that many small businesses want to offer retirement savings plans to help their employees save for the future, but can't due to how expensive and time-consuming it can be. NC Work and Save changes that.

People will not be required to save – that's a personal choice. But, we do know that people are 15 times more likely to save if they can do so out of their regular paycheck. By helping businesses to access a simple, low-cost retirement savings option, more hard-working North Carolinians will finally get the chance to do just that.

Without additional savings, many older North Carolinians will need to rely on public programs for those with limited incomes like Medicaid, and food assistance. This will have a heavy toll on taxpayers. But, if we act now and start helping workers grow the savings they need, according to research from UNCW's Cameron School of Business, North Carolina could save $548 million on public assistance in the next ten years.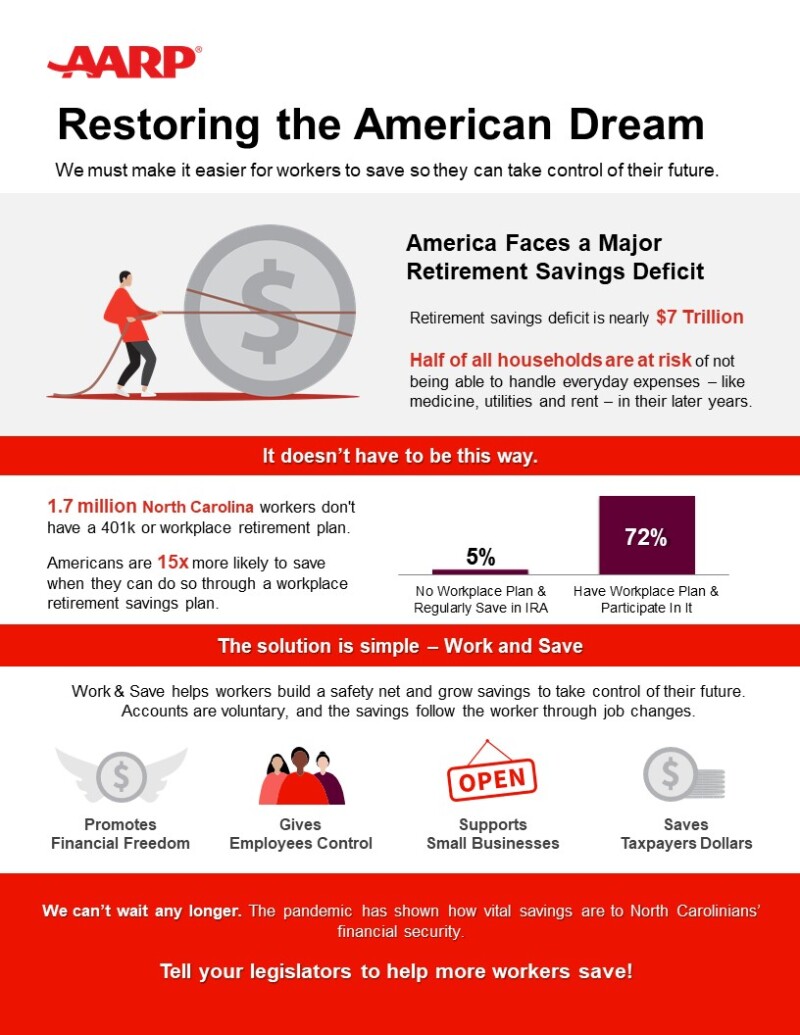 If funded this year, North Carolina would join 14 other states that have created a way for more people to start saving. After an initial loan for start-up costs, the program would be self-sustaining. The start-up fees would be paid back by the retirement savings program through small savings fees (typical of IRA's). There would be no additional costs to the state and zero employer fees.

The good news is that the program is working in other states, with an average savings of approximately $143/month per participant – showing these low-moderate income workers want to and can save to be self-reliant in their retirement.

If we don't act to address the retirement crisis now, the problem will just keep growing, and the cost of inaction will be felt by all North Carolinians. It's time we tackle this crisis head-on and fund the start-up costs for HB 899 so that all workers have the chance to take control of their future. It's fair. It's right. It's time.

Tell your legislators that you support this important savings proposal.

Keep up to date on North Carolina Work and Save and other important legislation to promote your health and economic security by signing up for AARP Action Alerts.

If you are a small business owner and want to help your workers save, we want to hear from you. Send a note with "SAVINGS" in the subject line to NCAARP@aarp.org

About AARP North Carolina