Most everyone understands the importance of saving for retirement. Yet few people, unless their employers offer workplace retirement savings options like 401Ks, are doing so.

A bi-partisan proposal in the North Carolina General Assembly aims to create a society of savers and break the growing dependence older adults have on programs like Medicaid that help support those with limited incomes.

The idea behind workplace retirement savings options that are run by private companies and set up and/or supervised by the state is an idea that was born from the conservative leaning Heritage Foundation. However, some mischaracterizations of the proposal need to be addressed including one that calls this a big government program when the plans that will be offered are run by the private sector. NC Work and Save is specially designed to break the reliance on government programs for the poor.

A recent study by the University of North Carolina at Wilmington found that even a modest three percent increase in retirement savings, will save North Carolina over $448 million in Medicaid spending in the short term.

When it comes to a financially secure retirement, Social Security is not enough. The average Social Security benefits for a 65+ North Carolina family is only about $21,000 a year, while older North Carolina families on average spend $22,000 a year on food, utilities, and health care alone.

Savings is equally important. Workers with access to automatic payroll deductions for retirement savings accounts are 20 times more likely to save.

When it comes to having the money needed to retire securely, states are creating easy to use options for small businesses that want to offer their workers a simple way to save. That is why lawmakers, fiduciary experts, business owners and academics spent a year studying the issue and are proposing a retirement savings option that can break the reliance on programs for the poor.

MYTH: The SECURE Act eliminates the need for NC Work and Save
FACT: The SECURE Act complements state efforts. While there are 55 million American workers without access to workplace savings plans, the SECURE Act only has the potential to cover around 700,000 nationwide. HB 899 is a vital tool to help North Carolinians start saving so they can live with dignity as they age.

MYTH: NC Work and Save will hurt financial service businesses
FACT: Participation rates in retirement plans have not budged in more than 40 years. HB 899 will change that by creating an option for a whole new class of savers that the private markets haven't been able to reach. By fostering a culture of saving, North Carolina Work and Save will expand the market for financial services.

MYTH: Businesses do not support NC Work and Save
FACT: AARP research found that 72 percent of small businesses in North Carolina feel more should be done to help people save for retirement. In fact, 84 percent of respondents agreed that North Carolina lawmakers should support a state-facilitated retirement savings program.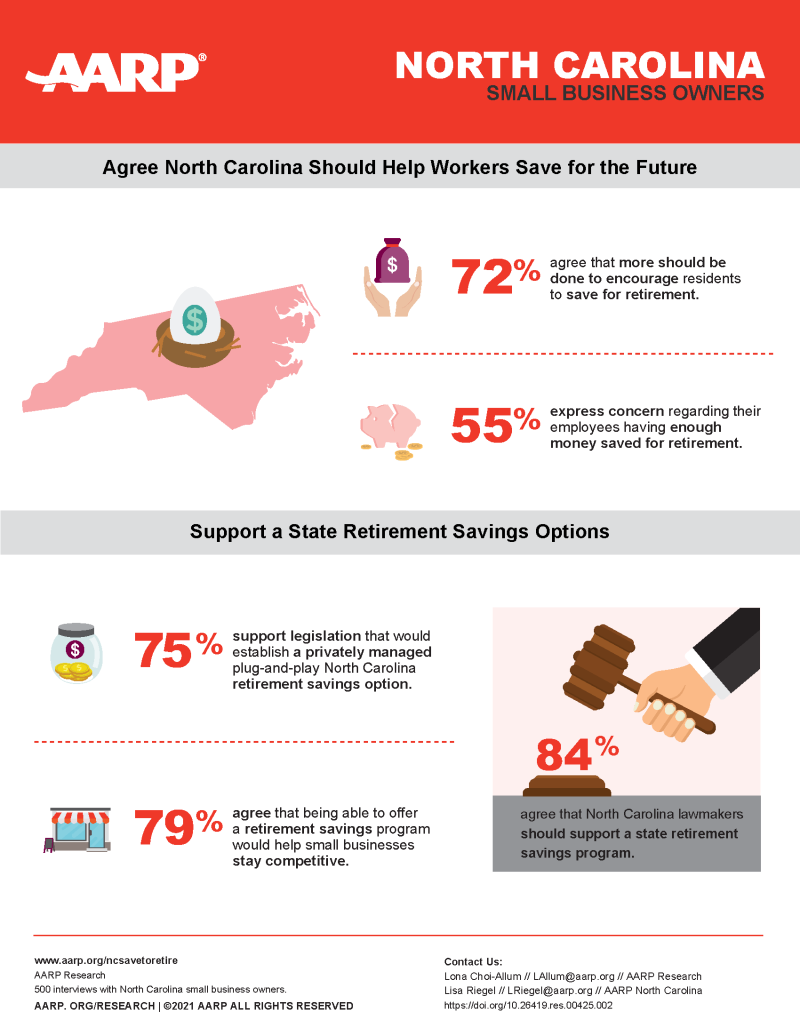 MYTH: Other states are rejecting Work and Save programs
FACT: Fourteen states have enacted similar programs. Three programs are open (CalSavers, Illinois Secure Choice, and OregonSaves) and have over 346,000 funded accounts and $254 million in assets as of May. Over 30 states recently acted to study program options or consider legislation.

MYTH: NC Work and Save will be too expensive
FACT: Oregon Saves, the first to launch, is not seeking further state appropriations and is thus expecting program fees to cover programmatic costs as it reaches its 4th year of operation. States can either provide nominal startup costs or loan the program funds. NC Work & Save legislation is written so the board designs the program to be self-sustaining. The cost of doing nothing is far greater.

About AARP North Carolina