Thanks to the efforts of AARP advocates and other opponents worried about unfair electric utility rate hikes, legislation to dramatically change the way North Carolina's electric rates are set, turned into a bill that would study the issue instead, setting back the changes the state's largest utility has pushed for.

Senate Bill 559, approved by the Senate in May, consists of two parts — the first related to storm recovery funding, and the second more controversial part, would expand the company's rate-setting options.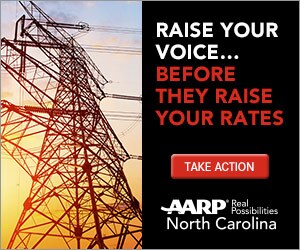 According to the Triangle Business Journal, "The bill was introduced after the North Carolina Utilities Commission denied Duke Energy's request for $13 billion in increases for a 10-year improvement plan to fund grid modernization and coal ash cleanups."

In August, the House approved the first less controversial part of what the company asked for, permission for utilities to securitize repair and recovery costs from major hurricanes and winter storms.

The House agreed to study part two, the more controversial multi-year rate plans and "banded return on equity" tools, which could give utilities the ability to earn beyond what the Utilities Commission traditionally sets as the maximum return on equity.

Those banded returns would allow utilities to make a little higher — or lower — return than the Utility Commission's approved rate of equity for those projects. Opponents of the bill, including AARP, said it would allow utilities to make unreasonably high returns and impose annual rate increases with less public input.

Since what the House passed conflicts with the Senate bill, it is now sent back to the Senate for concurrence with the changes. If the Senate agrees to the House's changes, it would then go to Gov. Roy Cooper, who, WRAL reported, voiced concerns about the bill.

If the Senate does not concur, leaders of the House and Senate will meet behind closed doors in a "conference committee" to work out the differences. That would mean AARP adocates will need to weigh in to the committee members to make sure customers' voices are heard.

Together we can fight this -- but we need as many people on our side.
About AARP North Carolina