By Doug Dickerson
Here are a couple of math puzzles: How does 17.7 billion equal 220 billion? How does 226 billion equal one out of every five?
Kudos if you knew that, in 2013, American families and volunteers devoted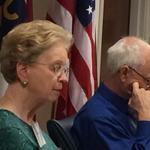 17.7 billion hours of unpaid care valued at $220 billion, which consumed one-out-of every five Medicare dollars ($226 billion), to dealing with a disease that still has no cure and cannot be contained in the walls of medical facilities. A global health crisis, Alzheimer's disease is ubiquitous and is thriving in our communities, hemorrhaging the happiness, health, and finances of families.
On March 27, nearly 50 top Alzheimer's disease researchers, caregivers, politicians, and civic leaders in North Carolina assembled at the North Carolina Institute of Medicine (NCIOM) to launch a year-long task force on the disease. Although North Carolina is one of the leading states in medical research on brain health and pharmaceutical discoveries, the state is one of only eight states that has yet to develop a state disease plan for Alzheimer's.
Being late to the game doesn't mean the stakeholders have to catch up; they can actually leapfrog others' learnings (and missteps) and improve upon the best practices analysts have identified elsewhere. And, they can innovate, which is the implementation of ideas to create value, just as we may come across places to "de-innovate, or give up old practices, even when new evidence reveals that those practices offer little value."*
Alzheimer's, by its very nature, ensures its impact spreads far beyond just those living with the disease. This disease is a nightmarish reality for over five million Americans – nearly two-thirds of which are women. For family caregivers who juggle families and careers, it often has enormous financial implications, which can involve cutting back work, less retirement savings, early retirement, and diminished Social Security income. AARP estimates the typical caregiver is a 49 year old woman, who also gives up $350,000 in lost income over a lifetime, in order to compassionately and willingly care for a loved one who often lives with Alzheimer's disease. One hopes that the task force will consider this challenge as one of its most obvious in need of innovation.
Being last has its benefits. North Carolina is on track to develop the most comprehensive plan for preventing, delaying, and dealing with Alzheimer's disease for our state, turning ideas into smart actions so families can live better and more rewarding lives as we grow older.
(Doug Dickerson joins Lisa Gwyther of Duke Medicine and Goldie Byrd of N.C. A&T State University as co-chairs, and Adam Zolotor in his new role as President of the NCIOM, of the North Carolina Task Force on Alzheimer's Disease and Related Dementia.)
*Excerpt from "Creating Value in Health by Understanding and Overcoming Resistance to De-Innovation" by Peter A. Ubel and David Asch, Health Affairs, 35, no.2.(2015):239-244
About AARP North Carolina