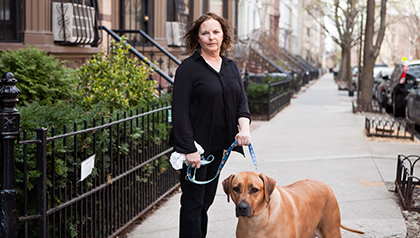 By Ann Levin

Three years ago, Esther Levitt closed her popular women's clothing store in Park Slope, Brooklyn. Now she is seriously thinking about moving to Ecuador.

"It's economics," she said. "I can live in other places in the world for a whole lot less and a whole lot better."

Levitt, 68, belongs to the fastest-growing segment of New York City's population—those 60 and older. Over the last decade, this group has grown by 12 percent compared to an overall 2 percent increase in population, due largely to the first wave of boomers turning 60 in 2006.

In response to the surge, the city in 2009 announced Age Friendly NYC: a plan to make the city safer, healthier and more affordable for older residents. Yet an AARP survey last year of city voters 50 and older found that more than half of boomers say they plan to leave when they retire, which would mean an annual loss to the city economy of $12 billion to $21 billion in retirement income, according to an AARP analysis of Social Security and retirement income data.

According to the survey, 59 percent worry about their ability to pay rent; more than half are worried about high utility bills or property taxes; and 35 percent are concerned about crime or personal safety. That includes walk lights timed too fast to safely cross the street and sidewalks that are narrow, poorly lit or in disrepair.

Many older New Yorkers, such as those in rent-stabilized apartments or who have paid off their mortgages, say they have no intention of leaving. They cite half-price senior fares on subways and buses and lots of free or low-cost things to do.

But the AARP survey suggests that more and more middle-income boomers are being squeezed out and are looking to relocate to upstate New York or other states, or even to countries where the cost of living is cheaper.

"We've identified a problematic trend for New York City," said Beth Finkel, AARP New York state director. "When we look at the complete story, I don't think people are just leaving for warm weather. A lot of issues are at play, driving one of the most influential populations with the most amount of money away from New York City."

Priced out of town

Kathryn Wylde, president and CEO of the Partnership for New York City, an economic development group, shares AARP's concern about the potential impact of boomer flight. She recalled the 1970s, when crime soared, the city nearly went bankrupt and population loss was at an all-time high.

"Today, people are leaving because they're priced out of the city," she said. "It destabilizes neighborhoods. Obviously there are fewer people to work, to patronize businesses, to volunteer, and to support cultural and other nonprofit institutions."

AARP plans to work with Mayor Bill de Blasio's administration to help boomers age in place, Finkel said. Those efforts include addressing a lack of affordable housing and making the workplace friendlier for older people, many of whom have to work longer to retire.

"If they're not keeping jobs, they're not affording New York," she said.

Tom Haeberle, 55, is trying to hang on to the house in Glendale, Queens, that he bought from his parents' estate when they died in 2004. It's the house where he grew up with his three siblings. Now he and his wife, Mary, are raising a son and caring for Mary's 78-year-old mother.

Haeberle, who recently found a low-paying job after a two-year stretch of unemployment, said, "Our future is somewhat uncertain. ... My hope is to continue looking for a better-paying job so that I can remain here in Queens."

Ann Levin is a freelance writer living in New York City.