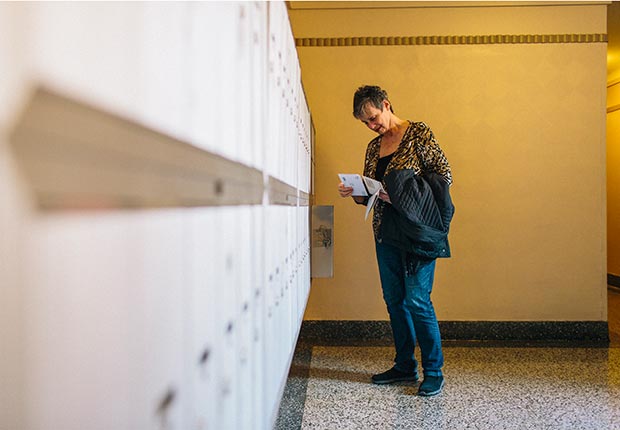 By Ann Levin

When Kitty Ruderman was homebound last year, recovering from surgery, she phoned in her grocery orders to a supermarket across the street. Not only did the store deliver, but the manager offered to pick up anything else she needed in the neighborhood.
Ruderman, who turns 70 in June, loves where she lives in the Forest Hills section of Queens—it's friendly, familiar, a block from the subway and close to all the shops and services she needs.
But the retired secretary, who lives on $1,400 a month in Social Security plus a small pension, is worried she may not be able to afford her one-bedroom rental.
After paying her monthly rent, which rose to $1,700 this year, and other fixed expenses, she doesn't have much left—even though she lives frugally, shopping for groceries on Wednesdays, when she gets a 10 percent senior discount.
"I'm already calculating how much longer I can afford to live here," Ruderman said. "I hate the thought of moving. It would mean leaving the city or even the state. This is the home I know, and I really love the neighborhood I'm in."
Ruderman's predicament is a familiar one in New York City, where a shortage of affordable housing has become a key issue for older adults.
An AARP survey of city voters last year found that more than 60 percent of boomers and Gen Xers are worried about their ability to pay their rent or mortgage in the future. The level of concern is over 70 percent among African Americans and Hispanics.

City and state activities
AARP New York has joined the fight in New York City for more affordable housing, a key measure of an age-friendly community.
Age-friendly communities are an initiative of the World Health Organization, which developed a global program to help municipalities plan for a rapidly aging population. AARP has established its own network in the United States. New York City is one of 14 in the state; another is Elmira (population 29,000), where city officials, in consultation with AARP, recently took the first steps toward building affordable housing for those 55 and older.
"Affordable housing is important to people in New York," said Chris Widelo, associate state director of AARP New York. "Our surveys clearly show that New York City has become unaffordable for the middle class."
Last June, AARP and other tenant advocates successfully lobbied the Legislature to strengthen and extend rent control laws in New York City for four years. The laws cover about a million apartments, keeping them below market rate—an important issue for older residents on fixed incomes. More than half of single senior renters live in units with some form of rent regulation.
AARP New York also has been a staunch backer of Mayor Bill de Blasio's ambitious housing plan, which calls for building or preserving 200,000 units of permanent affordable housing over 10 years, including at least 10,000 units for New Yorkers age 62 and older.
Those 10,000 units would provide a "continuum of care" so older couples could stay together in the same building, even if one or both became ill and required medical services, according to Wiley Norvell, a spokesman for the mayor.
The mayor's office also has publicized programs to help older New Yorkers age in place, including the Senior Citizen Rent Increase Exemption (SCRIE), which lets eligible seniors (at least age 62 with household income below $50,000) have their rent frozen, with the city making up the difference. In addition, de Blasio has increased funding for free legal representation for low-income seniors fighting evictions.
"Wherever I go around the city, the thing people talk to me about most is affordable housing," de Blasio told the Bulletin. "The way to address that is to create a lot more affordable housing and to make sure that senior housing is a priority. Nothing would make more of an impact on people's lives."

Ann Levin is a freelance writer living in New York City.