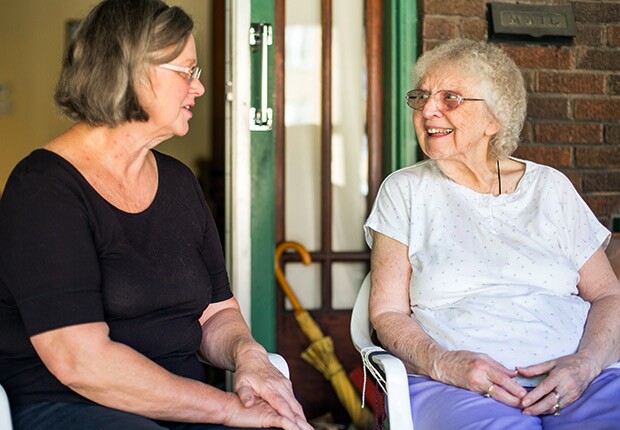 By Amanda Garrett

Only five steps stand between Adele Hamilton and the Cincinnati neighborhood outside her front door.
But if no one is there to shepherd the retired Kroger cashier safely to flat ground, "she's truly a prisoner in her own home," said her daughter, Sandra Hamilton.

It was a caregiver conundrum. Sandra considered nudging her mom toward a retirement community. But Adele, 88, said she wasn't ready. When Sandra figured out how much a facility would cost, she looked for a better option.

Then she found a city program that provides tax breaks for construction and renovation projects to help people with mobility issues. In August, Sandra began construction of a small addition to her home, a no-stair space where she can care for her mother herself.

Sandra Hamilton, 68, is like many other caregivers—part advocate, part researcher and part MacGyver. A retired social worker, she ferrets out proven solutions to help her mom or rigs up something entirely new to fix a problem.

AARP Ohio plans to tap into that deep body of caregivers' knowledge and experience to help others with various needs, from home-safety tips to reducing stress.

The organization, which also advocates for caregivers in the state capital, began rolling out a new caregiver information program through its Speakers Bureau in August. The speakers' primary task is to encourage conversations among caregivers.

Beth Hargreaves, 62, of Youngs­town, a caregiver to her mother and an AARP volunteer, worked on the strategy with Trey Addison, AARP Ohio outreach director. "No caregiver wants someone else to come in and tell them how to be a caregiver," she said.

Each situation is unique, and resources vary widely among Ohio's counties and regions, she added.
"This should all be about a forum for conversation between caregivers to offer their own ideas about what has worked for them, what hasn't and where they might find help," Hargreaves said.

A widespread concern
A national survey by the Pew Research Center in 2013 showed that 4 in 10 adults were caring for a sick or elderly family member. That same year, AARP estimated that nearly 1.7 million family caregivers in Ohio helped an adult with daily tasks at an estimated value of $16.5 billion in unpaid care.

James Crawford, a retired Ohio University communications professor, marveled at the impact caregiving is having on people he knows: "It is becoming so widespread, it almost requires you to be silent and blind not to notice."

Crawford, 66, an AARP volunteer from Canfield, participated in a session this summer in Columbus. Approximately 25 people, ranging in age from about 40 to 70, showed up.

One of the caregivers had recently relocated from Cincinnati and couldn't find some services the family had depended on in their previous home. "It was an 'aha' moment for other caregivers," Crawford said. Many had no idea such services existed anywhere, and they wanted to find them, too.

"When you get to share your experience, it helps you let go of anxiety and helps others accept the anxiety they're feeling," Crawford said.

So far, about a dozen Ohio AARP volunteers, including Hamilton, have trained to run the sessions.

Hamilton said she's always looking for ways to help herself and her mom. The home addition happened after a neighbor told her about Cincinnati's Visitability certification, which she hopes will give her an eight- to 10-year tax abatement.

An inexpensive string of rope lighting—the kind sold to decorate home exteriors at Christmas—will guide her mom to the bathroom in the addition, a trick she learned to help those with dementia. And a camera costing about $100 recommended to her by another volunteer will send her a live feed of her mother so she can check on her at any time without invading her space.

"Every time I go to a meeting or read something, I always look for at least one thing I can take away to improve my mother's life or my life as a caregiver," Hamilton said. "I hope people who come to the AARP caregiving sessions walk away with the same."

To schedule a caregiving discussion session, call 866-389-5653 toll-free or email OHvolunteers@aarp.org.

Amanda Garrett is a writer living in Medina, OH.