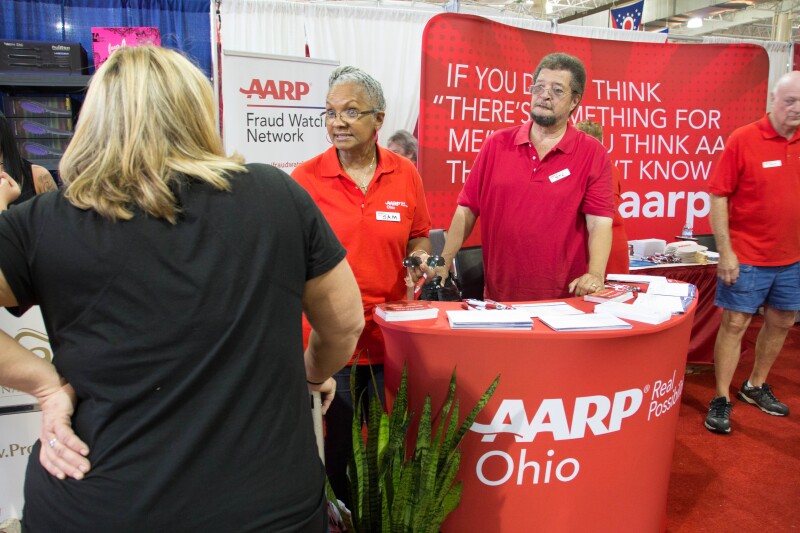 From July 26 th through August 6 th, nearly 170 volunteers from around Ohio traveled to the 2017 Ohio State Fair in Columbus to staff the AARP booth. We couldn't have asked for a more energized and enthusiastic team of Buckeyes to interact with fair goers about issues that impact all Ohioans.

For the first six days of the Fair, our volunteers engaged visitors to our booth about the AARP Fraud Watch Network. We armed them with information and tools to help protect themselves from fraud and scams. Most of the visitors registered to receive Watchdog Alerts so they could stay up to date on con artists' latest tricks.

The second half of the Fair was focused on the newly implemented Ohio Caregiving Act that was unanimously passed by the Ohio General Assembly in 2016. Visitors tested their knowledge about family caregiving by answering a few questions that focused on the new law. They also received a copy of the Ohio Caregiving Act wallet card that outlined what they can expect from hospitals when their loved ones are discharged. You can print out your own wallet card online to keep for when you may need it.

During the entire run of the Fair, the AARP Ohio Prize Wheel was a draw for people of all ages. Our volunteers cheered visitors on as they won everything from an AARP fan to help beat the heat to concert tickets for the shows at the Fair. The volunteers had a great time handing out prizes as booth visitors spun the prize wheel. As volunteer Jane Henry said, "This was the first time I volunteered and would very much do it again. Not only did I meet some great people, I had a very positive experience. I would do it again in a heartbeat."

"This was the first time I volunteered and would very much do it again. Not only did I meet some great people, I had a very positive experience. I would do it again in a heartbeat."

AARP Ohio volunteers always go above and beyond when it comes to making a difference in the community, and their work at the Ohio State Fair was no different! As a thank you we have put together this video to highlight the energy our volunteers created with Ohio State Fair goers.



To view all photos from our time at the Ohio State Fair, please visit our Facebook page.

If you are looking for a fun way to have a positive impact in your community, then explore the opportunities of becoming an AARP Ohio volunteer by completing our Volunteer Interest Form. Get to know us! We look forward to meeting you.