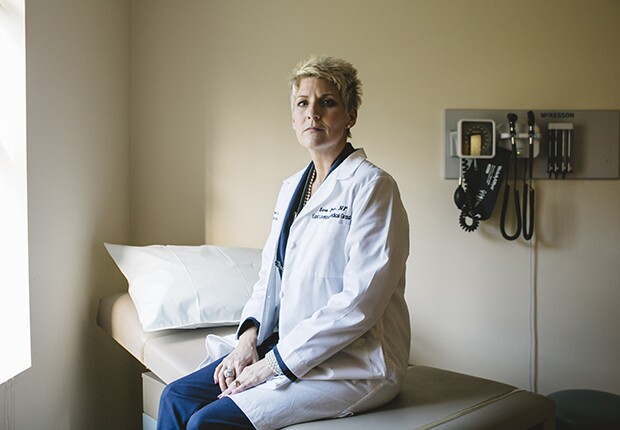 By Sarah Hollander
Nurse practitioner Sara Pease, 41, wanted to serve her rural community by helping open a combined primary care and mental health practice in East Liverpool five years ago.
When Calcutta Family Care's medical director left abruptly in 2017, with no successor, Pease was left scrambling to secure the fate of thousands of patients.
She and the remaining three nurse practitioners couldn't provide care without state-mandated oversight by a doctor.
Finding a physician wasn't easy. When she did, the contract was costly—as much as $5,000 a month. So Pease reluctantly closed the family-practice part of the business.
"It's very difficult as a nurse practitioner who cares deeply about her patients and community to be in fear of the loss of practice as well as loss of my own career," she said.
Ohioans for Healthcare Access—a nonpartisan coalition that includes AARP, nursing groups and patients—argues that this oversight is not only unnecessary but hinders access to health care.
Ohio requires the state's more than 16,000 advanced practice registered nurses (APRNs)—including nurse practitioners, clinical nurse specialists and certified nurse-midwives—to enter into a contract with a physician in their field.
Cost and hassle
Under the agreements, doctors perform random patient chart reviews at least annually, and more often for prescribing practices.
While some hospitals and health systems cover the costs of these agreements for staff APRNs, other APRNs pay on their own. The monthly fee can range from $400 to $2,000 or more.
With Ohio facing large growth in its 65-plus population, the time is right to make changes, said Luke Russell, AARP Ohio government relations manager. Twenty-two states don't require such agreements.
"This is not about doctors versus nurses," Russell said. "This is about health care access for Ohioans."
About 1.4 million Ohioans live in areas experiencing a shortage of primary care, according to a federal government survey.
State Rep. Theresa Gavarone (R-Bowling Green) plans to push for a bill this year to remove the oversight as a way to address physician shortages, especially in primary care.
In many underserved locations, a doctor might not want to set up an office, Gavarone said, but a nurse practitioner might, especially without the cost and hassle of an oversight agreement.
The Ohio State Medical Association, representing doctors, opposes changing this provision, spokesman Reginald Fields said.
"There is absolutely a role for nurses, nurse practitioners, physician assistants and other medical professionals when caring for patients," he said. "However, that care must be led by a physician whose level of training and education is unmatched by any other health care professional."
The proposed change would remove mandatory collaboration, but Pease and other APRNs said they would still consult with doctors and refer to specialists.
"I work every day to collaborate with multiple disciplines to provide care for my patients," said Pease. "I do not need a piece of paper to provide good care."
For more on this issue, visit aarp.org/oh.
Sarah Hollander is a writer living in Cleveland.