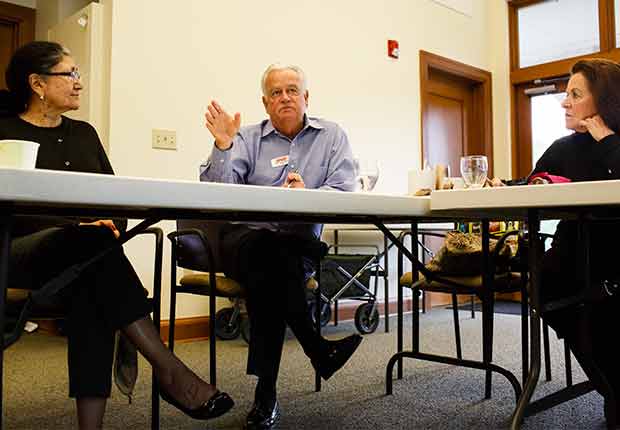 By Mac McLean

Bill Hamilton joined the fight against fraud a few years ago because an unscrupulous building contractor scammed his 83-year-old mother-in-law out of about $10,000.

"I wanted to help prevent this type of thing," said Hamilton, 70, of Portland, a retired software manager who has volunteered with AARP Oregon's Scam Jam program for nearly three years.

Since October 2013, AARP has worked with the Oregon Department of Justice and other agencies to hold Scam Jam sessions across the state, where people learn about local fraud schemes and ways they can avoid being ripped off.

"We bring all the experts in a community together at one time," said Joyce DeMonnin, who organizes these events as the communications director for AARP Oregon. She said each session typically attracts 300 to 1,000 people.

DeMonnin said it's important to warn older people about scams because many are retired and living off savings, and may never be able to replace the money lost to a swindler.

The AARP Fraud Watch Network ( aarp.org/fraudwatchnetwork; 877-908-3360 toll-free) is another way to keep up to date on the latest types of fraud, with email alerts about scams in the state.

For Hamilton, he knew something was wrong about 10 years ago when his mother-in-law talked about some work she was having done to her roof and driveway. This bothered him because the roof was in excellent condition and her driveway didn't need to be replaced.

Yet, when a building contractor showed up one afternoon, he told her that both projects needed to be done right away. He offered to do the work for $20,000, and she gave him the go-ahead.

"By the time we found out about it, half the driveway was done," said Hamilton, who managed to stop the contractor from working on the roof but had to eat the cost of the driveway replacement.

Hamilton learned that his mother-in-law had fallen victim to a classic construction fraud scam. According to the Oregon Construction Contractors Board, this common scam involves contractors who show up unsolicited, claiming work is needed on a home and can be done for a very low price.

Bogus IRS calls
In another scam, a person "from the IRS" calls, trying to collect a bogus tax debt over the phone. But government agencies always send letters in such cases. Other callers offer to begin or renew a magazine subscription at an inflated price.

The state Department of Justice received 2,818 written complaints about those two telephone scams in 2015, said Ellen Klem, the department's director of consumer outreach and education.

Klem said this total fails to represent the true number of victims because it counts only those cases that were reported to her office.

DeMonnin said that many scam victims are too embarrassed to step forward and make a report. "If someone has scammed you, you're not foolish," she said. "You're the victim of a crime and that person is a criminal."

DeMonnin said it's also important for victims to provide a first-person account of how the scammer operated. This information can be shared through Scam Jam sessions and the Fraud Watch Network to help keep other people from falling into the same trap.

"Prevention is the best medicine," DeMonnin said.

AARP Oregon, the state Department of Justice, and the Department of Consumer and Business Services are planning a series of Scam Jams. Call 877-926-8300 toll-free to register. Each event runs from 10 a.m. to noon:
May 18: Hermiston Conference Center, Hermiston
May 19: Pendleton Convention Center East Rooms, Pendleton
June 2: Beaverton City Library-Main, Beaverton
June 3: Four Points by Sheraton Portland East, Gresham

On Sept. 29 in Portland, Frank Abagnale, an AARP Fraud Watch Network ambassador, will share his expertise on how to avoid scams. The event, at 7 p.m., is free. Go to aarp.org/or for details and registration.

Mac McLean is a writer living in Bend, OR.