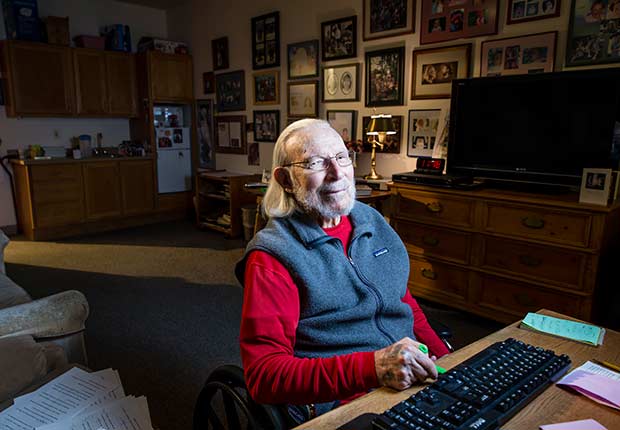 By Merry MacKinnon

Dick Weinman remembers nothing about the highway accident in 2005 that pitched him into the life he now writes about in a blog for the AARP Oregon website.

Retired from careers as a broadcaster and college media professor, Weinman had been driving on Oregon Highway 34 to visit his wife, Ginny, who had Alzheimer's.

"I was going to feed her, which I did every day," he said. But on the way to her memory care facility, his Honda minivan collided with a cement truck.

After two months in a coma, Weinman awoke to the reality that he would spend his days in a wheelchair and in long-term care. Now 82, Weinman lives in an assisted living facility in Corvallis.

For 24 years, his was a familiar voice in Oregon and western Washington. Along with doing numerous radio and TV commercial voice-overs, he hosted Oregon Public Broadcasting's Morning Edition radio program.

Although he wears arm braces at night to limit the contractures in his hands, he can still use a computer. And, thanks to AARP Oregon—which posts his twice-monthly blogs—Weinman has found a new audience.

"Each of Dick's blogs reaches about 15,000 people," said Shelley Buckingham, the recently retired AARP Oregon communications director. She launched AARP Oregon's blog page in 2013 with Weinman's "The Thin Edge of Dignity" vignettes.

Leavening his blogs with humor, Weinman describes "all kinds of funny and absurd things" he's witnessed during his years in an assisted living facility, or ALF.

But he is also blunt about the indignities of being dependent on caregivers to help him out of bed each morning, to dress him and to take him to the bathroom.

"It's the loss of independence and individuality and the imposition of regimented time" that make life in assisted living a trial, he wrote. "A lot of people are lonely and bored."

A decade ago, after he had a tracheotomy in the hospital, Weinman feared that his voice was damaged. It clearly wasn't. With his eloquent voice intact, Weinman narrated a recent documentary about his life in an ALF.

Posted on the Oregon Department of Human Services website, the video is fueling discussion about long-term care.

Volunteer bloggers
Several other volunteers now blog about issues such as AARP's advocacy for long-term care, age-friendly communities and the Life Reimagined program.

Life Reimagined offers tools to prepare for life's transitions. In her "Real Women Speak" blog posts, Heather Lee Leap, 42, tells of her challenging transition after her mother arrived from Maine to live with Leap's family in Portland.

Shocked by the unfolding of her mother's rapidly progressing early-onset Alzheimer's, Leap said, "It was like being on the shore and wave after wave crashes on you. Every time I turned around, I'd be hit with something new."

Leap's recommendation to other caregivers is to do what she does in her blogs and in her Alzheimer's support group: "Share your story. In our culture, women, in particular, are taught not to burden others with our problems. But get it out."

Elaine Friesen-Strang, 61, of Portland, a former director of a program for developmentally disabled adults, writes the "Livable Oregon" blog. Her posts highlight people who help create age-friendly communities with features such as traffic-calming measures that make walking safer for older people, those with disabilities and schoolchildren.

Last winter, on the first anniversary of Ginny's death, Weinman also began writing posts about their 61 years of life together. Buckingham said Weinman's reminiscences are so loving, she's sometimes moved to tears when she reads them.

To read the blogs, visit the AARP Oregon blog page at states.aarp.org/tag/blogs. "It's the AARP story through our members' eyes," Buckingham said.

Merry MacKinnon is a writer living in Portland, Ore.