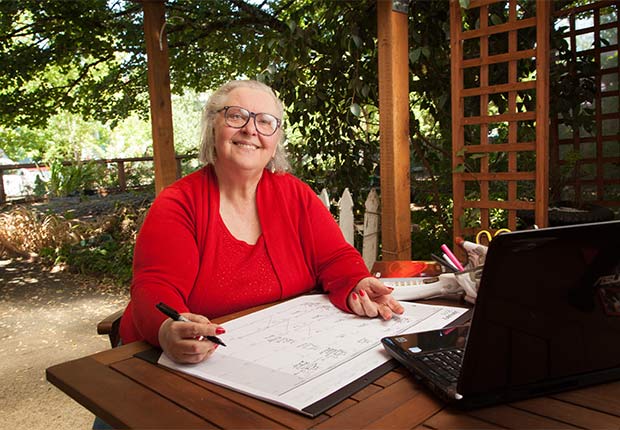 Erika Seiferling started volunteering for AARP when she got laid off as a management associate at Levi Strauss in Eugene. With the daily demands of the corporate world behind her, she had time to donate her skills and expertise to help the community.

She was 69. Six years later, she still spends five to 10 hours a month on AARP activities, taking a leadership role among a group of volunteers in Eugene who range in age from mid-40s to mid-80s.

" 'To serve, not to be served'—that is my guiding light," said Seiferling, quoting the motto of AARP founder Ethel Percy Andrus.

AARP Oregon has a staff of only seven people. But the organization's reach extends across the state, thanks in part to more than 1,300 volunteers, said Jerry Cohen, AARP Oregon state director.

From Portland to Eugene to Medford and Bend, they lobby the legislature, speak to city officials, serve on commissions, help with conferences and educate the public on topics from financial security to caregiving. Their efforts make the community better, Cohen said, and in the process they stay active, a key to healthy aging.

"We want to make sure that people 50-plus have an opportunity to fully engage in civic life," said Joyce DeMonnin, AARP Oregon outreach director. "It can be hard to network and stay engaged when you retire unless you have a plan."

To keep people engaged and educated, AARP Oregon is staging conferences this fall on Vital Aging. The sessions—in Medford, Nov. 7; Eugene, Nov. 18; and Portland, Dec. 5—will cover a number of topics, including asset protection, healthy aging and discovering real possibilities to live your best life.

Facilitators will help guide people to discover new passions.
"It doesn't necessarily mean a new career," Cohen said. "It may be something like doing pottery."

Volunteers wanted
The conferences will include a push for volunteers to take part in a range of activities, from training and planning to staffing events and giving presentations. Some volunteers like to focus on one area of interest or expertise. Others, like Daniel Rodriguez, 66, of Portland, contribute in many areas.

Rodriguez retired in 2009 as an executive recruiter in administrative services for the state of Oregon. About six months later, he signed on as an AARP volunteer. He's conducted workshops around the state on Social Security, Medicare and Medicare fraud. He's canvassed public opinion and given job-hunting seminars for people over 55 who are looking for a job.

"We used to know that the person to whom we sent our résumé would look at it," Rodriguez said. "Now it's all done online."

He also gives workshops across the country for AARP, traveling to cities such as Miami, Houston and Dallas, all places he'd never been before. But his biggest satisfaction involves helping others.

"I love the mission of AARP," Rodriguez said. "Everywhere I go, I connect with people."

While Rodriguez travels for AARP, Seiferling stays in Eugene. Her volunteer work includes greeting and registering participants at conferences, and staffing booths at public events. It widens her social sphere and adds meaning."For me, it's purposeful socializing," Seiferling said.

Though hundreds volunteer statewide, the pool constantly needs replenishing. "We always need volunteers," said Geneva Craig, an AARP volunteer from Medford who chairs the Diversity Advisory Council. "We need members all over the place to serve on boards, align with different community agencies, to be able to do the education that we want to do."

Each person offers various skills, but everyone is trained, Craig said. "They don't just send you out, flying by the seat of your pants."

For details on the workshops, go to bit.ly/1eewWzv, email oraap@aarp.org or call 866-554-5360 toll-free.

"We're trying to fire up people to get engaged with us so they can make a difference in their own hometown," DeMonnin said. "It's a win-win for everybody."

Lynne Terry is a writer living in Portland, Ore.