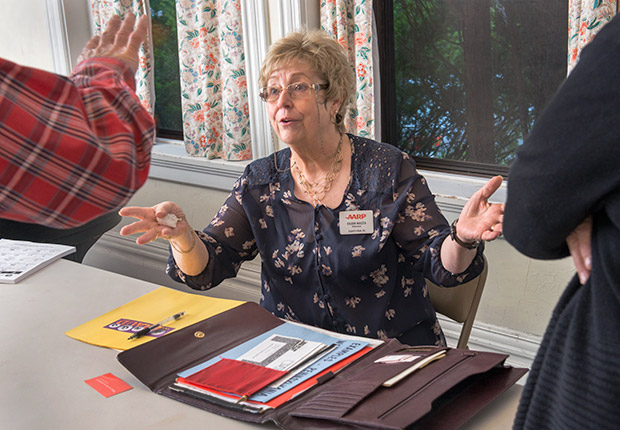 By Hilary Appelman

When Eileen Mazza retired as a manager at a gas company, she went to work part time for a law firm, helping find customers who might invest in trusts and annuities.

But Mazza soon realized that many people couldn't afford what her firm was selling. "People who've retired on maybe $80,000 and someone's trying to take $5,000 for a trust—they don't need that!" she said. "That's not right."

Mazza started telling potential customers that these types of investments might not be right for them, and she left after a year. The stories she had heard motivated Mazza to volunteer for the AARP Pennsylvania Consumer Issues Task Force.

Mazza, 71, who lives in Washington, Pa., makes several presentations a month for the task force, mostly at senior centers. One of the most popular is "Investment Fraud Bingo," in which players compete to spell out FRAUD instead of BINGO. Each square carries a message such as "Hang up on cold callers" or "If it sounds too good to be true, it probably is."

Older Pennsylvanians are a prime target for financial fraud because they often have accumulated savings, said Christina Kotsalos, investor education coordinator for the Pennsylvania Department of Banking and Securities, which partners with AARP on the task force.

According to a 2010 survey by the Investor Protection Trust, a nonprofit consumer education group, more than 7 million Americans 65 and older—1 in 5—have been victimized by a financial swindle. A 2011 MetLife Mature Market Institute study estimated financial losses by older Americans at more than $2.9 billion a year.

"Education is the best preventive medicine," Kotsalos said. "We want to reach these senior citizens before the con artists do."

The 15 volunteers on the task force, which is partly funded by a grant from the Investor Protection Trust, crisscross the state giving free presentations to groups or organizations on request. Topics range from savvy shopping and identity theft to various scams.

Popular types of fraud
Task force chair Mary Bach said the volunteers have reached more than 20,000 Pennsylvanians over the past three years. She warns consumers to watch out for:

Scams from the headlines. Since the advent of the Affordable Care Act, many people have received calls saying they need to get a new Medicare card, and are asked for their Social Security number. In the wake of disasters like Hurricane Sandy, fake charities have sprung up with names similar to those of legitimate nonprofits.

Lottery, prize promotions. "We all want to be winners; we all want to be special," Bach said. "But if they ask you for money, it's a scam."

The grandparent scam. In one variation, callers identify themselves as police or emergency workers and claim a grandchild has been injured or arrested and needs money right away.

Jury duty scam. A caller claiming to be from the sheriff's office says you missed jury duty and there is a warrant out for your arrest that can be voided if you pay the fine by credit or debit card.

Bach's advice: Don't give out personal data to anyone you don't know, especially if you didn't initiate the call. "Once the money's gone, it's gone," she said. "We want to prevent people from being scammed from the beginning."

To book a presentation, contact Bach at mbadvocate@msn.com or 724-327-6969, or David Kalinoski at dkalinoski@aarp.org or 866-389-5654 toll-free.

Hilary Appelman is a writer living in State College, Pa.