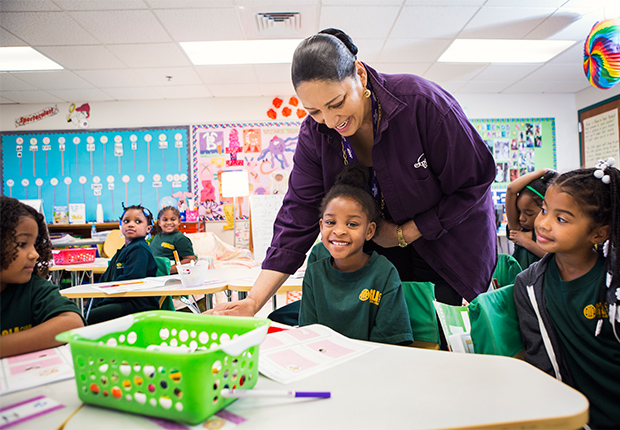 By Kathryn Canavan

When the youngest students at Global Leadership Academy in West Philadelphia see Delores Muldrew, they fly down the corridor into her arms. Muldrew, 70, is a volunteer with AARP Foundation Experience Corps, a program that matches older adults with struggling readers in kindergarten through third grade.

She spends three days a week in one of Philadelphia's hard-pressed public schools, where only 14 percent of rising fourth graders could read at grade level in 2013.

"When I retired, I realized that now I could do something to help," the former insurance company supervisor said. "The children can't wait to come into their sessions. They are enthusiastic to the point that children who don't require tutoring want to come too. They're whispering in my ear, 'Take me. Take me.' "

Cheryl Greenberg, of Bensalem, a 68-year-old retired teacher who volunteers at Universal Creighton Charter School in Olney, said she loves watching the kids discover they can read. "You can see the lightbulbs going on," she said. "It's always fun."

Catherine Mesaros, director of the Philadelphia program, is grateful for volunteers like Muldrew and Greenberg because she knows the importance of learning to read by the end of third grade.

"For better or worse, it is the single biggest factor influencing their ability to graduate from high school," Mesaros said.

Teachers see improvement
A whopping 89 percent of teachers who had Experience Corps volunteers in their Philadelphia classrooms in 2013-14 said they saw improvement in reading scores.

Donna Smith, principal of John Wister Elementary School in East Germantown, said she once had 12 teacher aides in her classrooms. After budget cuts, she's down to three.

She said children often forget sounds or letters when they go off by themselves to read, but they feel very comfortable sitting one-on-one with AARP volunteers to practice their skills.

"The children love them!" Smith said. "Older kids, when they have a sibling coming up, they'll say, 'Listen to Mr. So-and-so because he's the guy who helped me learn to read.' "

Smith said some students' abilities have jumped from beginning-of-first-grade reading level to almost end-of-third-grade level in one year. "They have made almost two years of growth in one year, because they are getting all that reinforcement," she said.

Smith said she doesn't know what she'd do without the 12 Experience Corps tutors who buoy the reading program. "With the budget being in the state it is, I don't have any other resources to fill the gap."

The AARP Foundation program has served 50,000 children since it began in Philadelphia in 1995 and has mobilized 4,450 older adults.

Now the Philadelphia program needs about 90 additional volunteers for the current school year to cover its expansion from 22 to 26 city schools.

New volunteers complete 25 hours of training, and returning volunteers complete 20 hours. Typically, volunteers are given a $150-a-month stipend to offset lunch and commuting costs.

Current volunteers range in age from 50 to 87, and their educational attainment ranges from GEDs to advanced degrees.

"You don't have to have the perfect background," Mesaros said. "We are happy to have anyone who has at least a GED. We look at that as a good, solid fit."

She said each volunteer is assigned to one classroom all year. "We want them to forge really deep and meaningful ties with the children," Mesaros said. "If they're in an environment of trust and they're really getting a lot of support, they're going to have a better chance of flourishing."

Those interested in volunteering or wishing to learn more about the program can contact Loraine Carter at 267-592-4459 or lcarter@aarp.org.
Kathryn Canavan is a freelance writer living in Wilmington, Del.