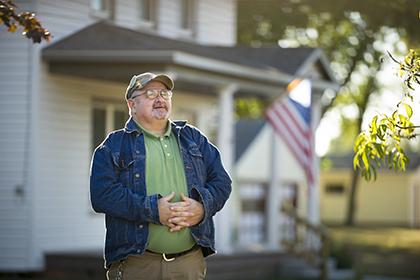 By Daniel Kurt

In the tiny western Wisconsin village of Ettrick, Pete Harmon is used to cell calls breaking up—or not being able to make them at all.

Thirty miles north of La Crosse, the community of just over 500 is surrounded by rolling hills that often prevent signals from reaching nearby cell towers.

"You just move a little, and it gets lost," said Harmon. "If you really need to get ahold of someone, you're really helpless."

For Harmon and others who live in rural parts of the state, particularly in the north and west, that's a major concern. The 54-year-old, who has diabetes and other health conditions, pays extra to have a landline in his apartment so he can connect with a doctor or emergency responders if needed.

But that option may be in jeopardy as the result of legislation that went into effect this spring.

Previously, landline-based carriers in the state were required to be "providers of last resort" whenever residents lacked reliable access to other phone services. The deregulation bill removed that requirement, leaving some Wisconsinites to wonder how long telecom companies will maintain the copper networks that provide a solid and consistent means of communication.

Unreliable service

About a dozen of the state's 72 counties have unreliable or nonexistent cellphone reception. Many also lack fiber-optic cable networks.

Consumers have some protection at the federal level, where universal access to basic phone service has long been a requirement for public utilities. However, some of the nation's biggest providers are beginning to push back.

For example, on New York's Fire Island, which was damaged by Hurricane Sandy in 2012, Verizon offered residents a wireless-based home phone service rather than repairing its copper landlines. But after complaints of poor reception from the wireless system, the company announced it will replace its copper lines with a fiber-optic network and offer both options to customers.

While an imminent termination of landline service is unlikely in Wisconsin, state Sen. Kathleen Vinehout (D) noted that if a powerful storm hit a rural part of the state, her constituents could be left without phone service in an emergency. "I'm very concerned that our way of communicating is at risk," said Vinehout, who doesn't have cellphone or fiber-optic cable service on her farm near Alma, about 50 miles southwest of Eau Claire.

Relying on phone service

With support from AARP Wisconsin, Vinehout has introduced a bill that would put "provider of last resort" language back into state law. "The state needs to consider the public good, not only the profits of a private company," said Vinehout.

While many residents have expressed concern over landline access, including business owners who rely on it to take orders and process credit card sales, the issue has special significance for people over 50.

In addition to depending on phone connections for 911 service, many older adults rely on them for preventive medicine. According to IMS Research, an electronics industry marketing research firm, more than 220,000 Americans use monitoring devices at home to measure blood pressure, glucose levels and other medical markers. The machines send the results to medical professionals, usually through a landline.

"We have a growing number of people living alone," said Helen Marks Dicks, AARP Wisconsin advocacy director. "I'm worried about what's going to happen to these folks from a health and safety perspective."

As for Harmon, he is among those who want the legislature to revoke its action allowing phone companies to abandon landlines. "Getting rid of landlines in this part of the state is just no good," he said.

Daniel Kurt is a freelance writer living in Milwaukee.