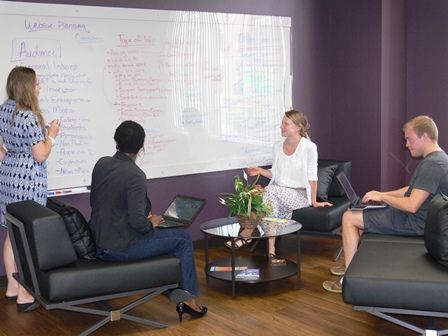 (Information and photo courtesy of reSET)


If you're thinking of starting a social enterprise (businesses whose goals are to generate profits and solve social problems) you might want to consider participating in the upcoming Accelerator Program for aspiring social entrepreneurs offered by reSET, the Social Enterprise Trust, located in Hartford, CT. reSET is offering a fourteen-week Accelerator Program starting September 6, 2013. Classes will meet weekly on Fridays for four hours at reSET's co-working space at 99 Pratt Street, Suite 200 in Hartford. Applications will be accepted until August 31st. The program is limited to ten slots and scholarship funding is available.

See also: How to Become an Entrepreneur

Recognizing that the start-up phase is challenging for any new business owner, reSET designed an innovative curriculum specifically for social entrepreneurs to better understand and grow their business. Staff and subject area experts, including Bill Kenny of TestmyPitch and Sophie Faris of B-Labs, will present on a variety of topics including: developing business models that balance purpose and profit, refining social value propositions, and defining and quantifying social value.

Each participant will spend forty hours of classroom time learning from featured speakers and entrepreneurs at reSET's co-working community. At the end of the program, participants will have an opportunity to pitch their business plan to a network of professionals, mentors, collaborators, and staff, and a community of supporters and accountability partners.

"This is an expert-taught course," said Program Director Michelle Cote "which is valuable to our participants because it combines thoughtful curriculum and expert-led seminars. The Accelerator also encourages peer-to-peer support which allows people to connect and bring their business to the next level."

Leslie Krumholz participated in the first Accelerator Program in 2012. She owns "Good Streets" a grassroots online community of engaged citizens who believe in supporting and investing in local businesses to grow communities. Describing the program as "amazing," Krumholz said she established a support network of fellow social entrepreneurs, and as a result of the Accelerator Program, re-thought her business concept to successfully identify and tackle the problem she wanted to solve with in her community.

"It made me ask questions I was avoiding. The financial questions, the validation questions, things I knew I had to do but was scared to, and didn't know how. I was avoiding it. It was the best; the Accelerator changed my business plan for the better" said Krumholz.

Cote said social entrepreneurs who complete the accelerator program watched their business grow from the idea phase into an actionable venture.

The Accelerator Program provides time and space to apply lessons learned to business plans, and to learn from and work with peers, professionals, and other members of reSET's growing social enterprise community.

The Accelerator Program starts Friday September 6, 2013. Program fee is $1,025 including all course materials, lunch during program sessions, and three months of co-working space. For more information or to apply, click here, or contact Meryl Willett, Community Builder at 860-560-9120 ext. 204 or MWillett@socialenterprisetrust.org.