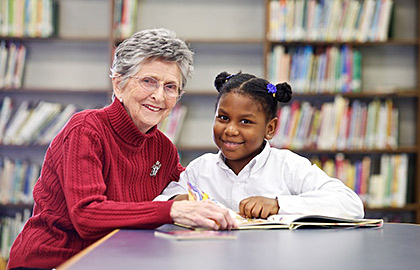 By Kathryn Canavan • Once a week, almost 350 Philadelphia elementary school students show up at churches, nursing facilities and retirement homes where adults are waiting to read with them.

The second that Aaliyah Bonner, 9, walked into the church meeting room, she scanned the crowd for her "reading buddy," Margarite Vallery, 90.

It's a scene that's been repeated thousands of times since the Reading Buddies program began more than 30 years ago. It pairs adult volunteers with young students for an hour of reading together each week.

"The children are learning things from the past that their parents can't tell them," said Reading Buddies founder Pat Quigg, 82. "The adults aren't isolated anymore, and they're not talking just to old people."

Reading Buddies is so successful that last year Quigg, an AARP member from Jenkintown, was awarded AARP Pennsylvania's highest volunteer honor, the Andrus Award.

Making a difference

"Pat Quigg has spent more than 40 years improving the lives of at-risk children in Philadelphia and the volunteer mentors," said Steve Gardner, AARP Pennsylvania spokesman. "Her work truly embodies the spirit of AARP's founder, Ethel Percy Andrus, and stands as an extraordinary example of one person making a real difference in her community."

Quigg's organizational challenge is daunting: coordinate snacks, buses, school schedules, 14 meeting places and 250 adult volunteers, some of whom mentor more than one child.

In 1968, Quigg was a suburban homemaker who wanted to help children in Philadelphia and came up with the Reading Buddies idea. "I never dreamed it would last this long," she said.

Almost 5,100 children have been paired with buddies over the decades. The program works with Philadelphia elementary schools, which choose the second-, third- and fourth-grade classes that participate. The children select the books to read.

Adult buddies include suburbanites and residents of nursing homes. They are as young as 26, although most are retirees.

The adult volunteers say the program works because Quigg welcomes anyone willing to help. For instance, one volunteer was rolled into the nursing home meeting place in her hospital bed because she didn't want to miss an appointment with her reading buddy.

Lavera Diggins, 82, lost her sight when she was 18, so she asks her little buddies to read to her. When they stumble over a word, they spell it aloud, and Diggins helps them sound it out.

Her buddy is 'really cool'

Lucy Palandro, 9, said Diggins is "really cool. ... I'm learning all this stuff about blind people. I learned that she can use her other senses to 'see' stuff, but not literally see."

Philadelphia's 2013 Youth Poet Laureate is a Reading Buddies alumna. Siduri Beckman, 15, wrote in a poem when she learned that her former buddy had died: "I miss your laugh. It was a thousand butterflies smiling in the sun."

Dana Spadotto, an Independence Charter School teacher, brings her third-graders to the apartment building where their buddies live.

She said her students' reading has improved, as well as their vocabulary, speaking skills and ability to have a conversation.

The benefits flow both ways.

One adult volunteer told Quigg she was so lonely after moving to a retirement home that she cried daily until she became a buddy.

Volunteers don't need academic credentials, but they should have a caring attitude, an open heart and a desire to make a difference in the life of a child, Quigg said.

To volunteer as an adult reading buddy, Philadelphia-area residents can contact Quigg through email at readingbuddies@aol.com or by phone at 215-887-7868.

Kathryn Canavan is a writer living in Wilmington, Del.