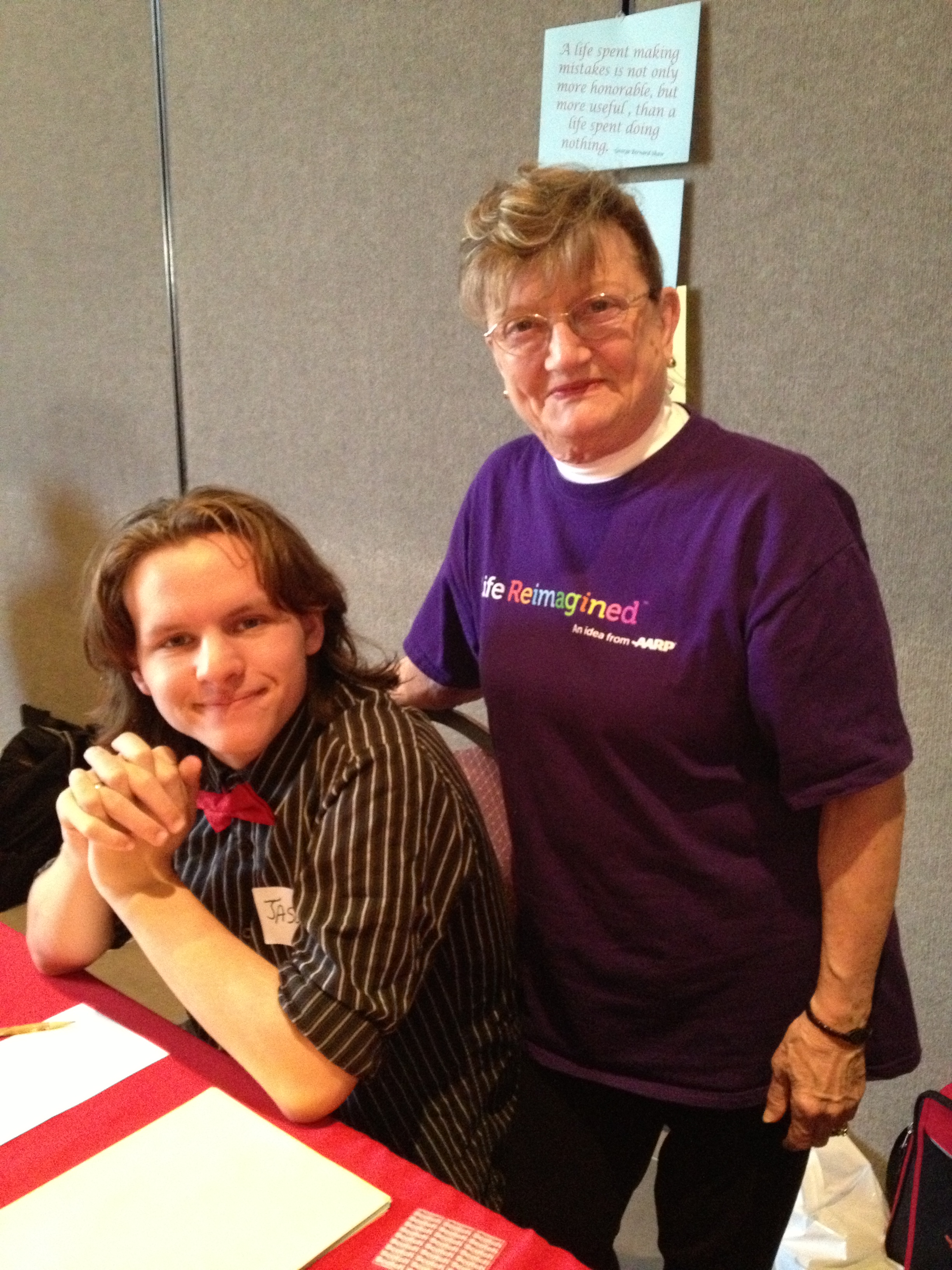 Grandparents do not often get an opportunity to work alongside their grandchildren, but at AARP every opportunity is a real possibility.


AARP volunteer Sue Marcom, of Maitland, experienced the satisfaction of working alongside her 16-year-old grandson, Jason Dixon, during AARP's Life Reimagined Check-Up at BrainFest 2014.
Life Reimagined is a powerful step-by-step approach, designed to guide participants in exploring what's next in their lives by helping them discover their real possibilities, preparing them for change and helping make their ideas into feasible realities.
"Life Reimagined helps you really think about what you want and where you want to go," Marcom said. "Life Reimagined means having the tools and activities to be in control of your own life."
Dixon, a junior at University High School in Orlando, who loves anime, enjoys drawing and is a Boy Scout just one step away from earning his Eagle Scout ranking – the highest attainable – helped those taking part in the Life Reimagined Check-Up visualize their long-term goals by drawing their thoughts and dreams out on paper.
"He was very excited to do this," said Marcom. "I always see him in his atmosphere, but he doesn't see my world."
Life Reimagined allows for people of all ages, both younger and older, to participate in finding clarity and courage to tackle what's next in their lives through a series of helpful programs, experiences, resources and services. Participants are able to gain the confidence necessary to go after their dreams and aspirations.

"AARP's Life Reimagined is not just for older people; instead it's for people of all
generations," Marcom said.
Through Life Reimagined, Dixon was able to think outside the box and learn what it's like working alongside a unique group of individuals, ranging from people of all ages and cultures. Unlike many of his peers, Dixon was able to gain real-life experience that he can apply towards his future and his day-to-day life.
"I'm hoping Life Reimagined broadened his awareness of that fact that older people are interesting and they all have something different to share," Marcom said. "If you interact with people from different generations, you're able to learn more."

For more information about Life Reimagined or to explore what's next in your life, visit http://lifereimagined.aarp.org/