Now in its fourth year of helping Massachusetts residents 50+ realize their entrepreneurial dreams, Encore Entrepreneur, the AARP outreach program with the Small Business Administration (SBA), is better than ever.
AARP Massachusetts, the Massachusetts Small Business Administration District Office, and SCORE Worcester are coming to Western Massachusetts with an event specifically designed to help "encore entrepreneurs"— those aged 50+— who want to launch or expand a small business. This time, the Encore Entrepreneur Seminar will be held in the evening, thereby allowing even more entrepreneurs to attend.

This seminar is part of the " Summer of Encore Mentoring" initiative offered by AARP Massachusetts and the Massachusetts Small Business Administration District Office. The events build on the successful Mentor Day program from 2012, which evolved into successful "Mentor Months" in both 2013 and 2014.



  Whether people are starting a business to fulfill a passion or because they need the income, the AARP-SBA Encore Entrepreneurship initiative will provide advice and resources to help them succeed." — Mike Festa, AARP MA state director

Participants in the Encore Entrepreneur Seminar will work with experts from AARP, the SBA, and SCORE to learn about programs and resources that will help them start, keep, and grow successful businesses.


---
Worcester
WHAT: AARP/SBA Encore Entrepreneur Seminar

WHEN: Tuesday, Sept. 29, 2015, 6-8 p.m.

WHERE: Worcester Public Library, 3 Salem St., Worcester, MA 01608

RSVP: While the event is free, space is limited. Please register today by calling 1-877-926-8300, or by visiting aarp.cvent.com/worcestersept29


---

For more information, call or email Kara Cohen, Community Outreach director, AARP Massachusetts, at 617-305-0569 or kcohen@aarp.org.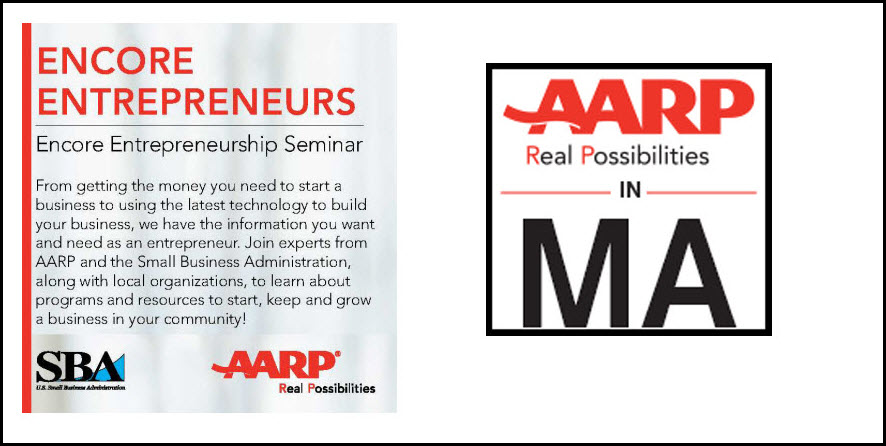 Since the program began in 2012, the AARP-SBA national initiative has served more than 305,000 current or prospective entrepreneurs. For more information, visit www.aarp.org/StartABusiness.