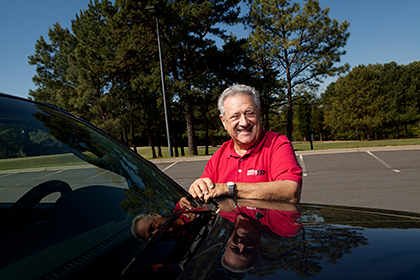 By Holly Fisher

When Gene Esarove first took an AARP Driver Safety class, he got a refresher in those simple yet important tasks such as turning his head to check for a car that might be lingering in the blind spot of his side mirror.

"It reminded me of the stuff I should be doing," said Esarove, of Tega Cay, who became an AARP course instructor in 2005 and is now in his third year as state coordinator for South Carolina.

Basic traffic safety tips as well as updates on new laws and technology are being shared with about 4,300 South Carolina drivers a year as part of what is now called the AARP Smart Driver Course.

The program introduced extensive changes this year with new workbooks and videos that incorporate evidence-based research, volunteer feedback and expert input.

Although anyone can take the course, it's designed for drivers 50 and older. Esarove, 73, said the course includes information of particular interest to older drivers, such as avoiding rush-hour traffic and making sure their vehicle is in good working order.

South Carolina law mandates that insurance companies offer a discount on liability and collision coverage to drivers 25 and older who take the classroom course. The exact amount of the discount varies among carriers.

First-time students take a six-hour course. Drivers can take a four-hour refresher course within three years to maintain the insurance discount.

Vince Jones, 68, who has taught the class since 2011, said his students were pleased with the updates. Many had taken the course before. "Almost to a tee, everyone agreed the new course and materials were better than the old," Jones said.

Changing behavior
Jones and other volunteers teach about a dozen classes each year in the Aiken area. He said most participants have been driving for about 50 years. Many take the course to receive the insurance discount, but ultimately they benefit from the added information and safety reminders, he said.

In a 2010 survey of participants, 97 percent said they had changed at least one key driving behavior as a result of what they learned in the course.

Don Owens, 86, of Greer, has been teaching driver safety courses in the Upstate region since 1997. An important lesson, he said, is watching out for other drivers.

"One of the keys to the whole program is to pay attention to those around you," Owens said. "Some people have tunnel vision. You need to expand that so you know what's going on around you. You can't just look at the car in front of you."

In addition to teaching a few courses each year, Owens trains other instructors. He credits the volunteers for giving their time and energy to teach and coordinate the classes. Volunteers are trained and then monitored for their first class or two to make sure they are comfortable with the material.

"Nobody is turned loose on their own," Owens said.

More than 55 volunteers keep the AARP Smart Driver Course running in South Carolina, Esarove said, and more volunteers are always needed as instructors, database managers and district coordinators.

To find a course in your area, volunteer or learn more about the program, go to aarp.org/drive or call toll-free 888-227-7669.

The classroom version of the course costs $15 for AARP members and $20 for nonmembers; the online course costs $17.95 for AARP members and $21.95 for nonmembers.

Holly Fisher is a writer living in Mount Pleasant, S.C.