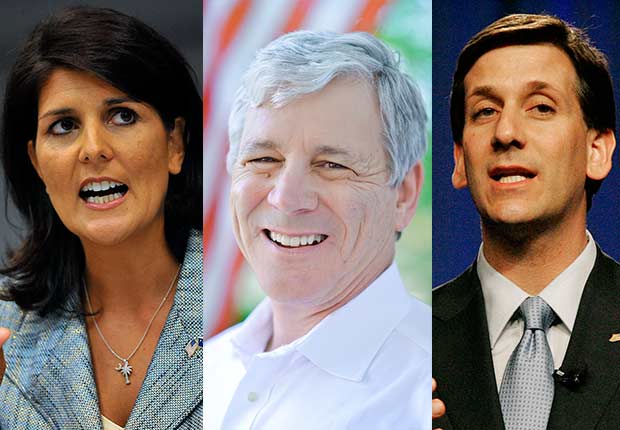 By Katrina Goggins

Voters heading to the polls Nov. 4 will see both new and familiar faces in the contentious race for South Carolina governor.

Democrat Vincent Sheheen, 43, will again challenge Republican Gov. Nikki Haley, 42, who became South Carolina's first female governor when she defeated Sheheen, a state senator from Camden, in 2010. Meanwhile, petition candidate Tom Ervin, 62, a former GOP legislator and judge, has secured more than double the 10,000 voter signatures required to be certified as an independent candidate by the state Election Commission. Ervin had dropped out of the Republican primary to focus on the November ballot.

The victor will play a key role in handling issues of importance to older South Carolinians. Respite for family caregivers and support for better ethics investigations are among the top concerns, said AARP South Carolina officials.

AARP does not endorse candidates, contribute to campaigns or favor political parties.

"AARP has a long history of voter engagement and education," said Teresa Arnold, AARP South Carolina state director. "We want our members to have access to what candidates are saying about issues that are important to people 50-plus."

All three candidates were emailed the same questions, and all answered via email. Haley's and Sheheen's responses came from their campaign staff, who attributed the quotes to their candidates. Ervin emailed and spoke with the AARP Bulletin.

Support for caregivers. Almost three-fourths of older people who receive personal assistance rely exclusively on unpaid caregivers, mostly family members, for help.On the issue of support for family caregivers, Haley said: "Respite can be a very effective family support ... to help prevent these adults from having to seek out expensive taxpayer-funded services, like nursing home care that would separate them from their families and community."I support programs that target individuals most financially at risk that are closely integrated with other state programs."

Sheheen said: "I believe we must do everything we can to help seniors who wish to remain in their homes, and to help the family members who support and take care of them.

"Gov. Haley's veto of vital funding to the Office of Aging for [respite] vouchers this year was a slap in the face to all the hardworking family caregivers, and I was proud to stand up and override her veto."

Ervin noted that he "had a family member who suffered from Alz­heimer's disease. The caregivers needed help and support to meet their own needs in dealing with this situation." Ervin said he supported proposals made by former Lt. Gov. Glenn McConnell (R) to expand the services provided by the South Carolina Commission on Aging.

Ethics violations. On the question of who should investigate ethics violations, Sheheen said: "Independent investigations for public officials who break the ethics law are imperative—but we also need to elect honest leaders in addition to changing the law. Without ethical leaders who choose to follow the law instead of always looking for loopholes, we'll never have truly ethical government. South Carolina is ready for new, honest leadership and real accountability."

Haley said: "The system of legislators investigating themselves in South Carolina must come to an end. Our bipartisan ethics reform commission developed a blueprint for ethics reform in South Carolina, and it included independent oversight. We will continue to fight for the kind of government—that works for the people, not the other way around—that our people want and deserve."

Ervin said the House and Senate Ethics committees should not investigate ethics complaints about their own members. "This creates the appearance of impropriety when colleagues are called upon to investigate their friends they work with daily," he said. "My plan for meaningful ethics reform includes requiring income disclosure of public officials, a gift ban to public officials from special interests, and an independent investigative body like the South Carolina Ethics Commission to investigate complaints."

For more information on state and federal candidates' positions on issues, consult the voter guide at aarp.org/yourvote.Katrina Goggins is a writer living in Columbia, S.C.