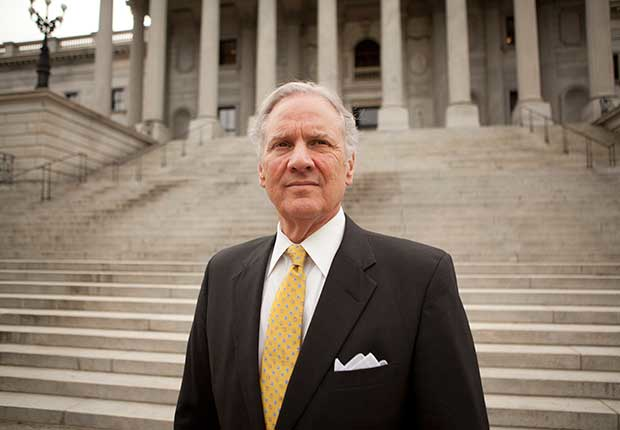 By Holly Fisher

In his new role as South Carolina's lieutenant governor, Henry McMaster has two duties.

One is to preside over the state Senate; the other is to oversee the Office on Aging, which works with a network of local and regional organizations to improve the quality of life for the state's older population.

It's no small task. In 2013, those 65 and older made up more than 15 percent of the state's population. According to the U.S. Census Bureau's projections for 2030, South Carolina's 65-plus population will grow to 22 percent of the total.

"People are living longer all over the country, and more and more people want to come to South Carolina," McMaster said.

With that fast-growing population comes a host of challenges for families and the state, including health issues, help for family caregivers, the security of retirement savings and long-term care planning.

The Office on Aging administers federal funds received through the Older Americans Act and functions as a coordinator and facilitator for programs and resources.

That collaboration is where the 67-year-old Republican has experience. As a former U.S. attorney for South Carolina and state attorney general, McMaster was continually working with different organizations to tackle domestic violence, drugs and other issues. He's bringing that same inclusive approach to the Office on Aging.

"We have enormous assets in this state—agencies, groups, churches. There are all sorts of existing entities that can play a role if we can collaborate and coordinate," McMaster said in a recent interview.

He gives the example of volunteers who are willing to provide respite for caregivers, help with household chores or simply visit with older residents.

"There is one institution that has to be the coordinator, but it doesn't have to do all the thinking," McMaster said. "That's what I'm going to try to do. I don't want to take over anybody else's job, but we just all need to know where we fit into this puzzle so we can work together better."

One organization with a strong interest in having a seat at the table is the state chapter of the Alzheimer's Association. The chapter has received funds in recent years—$778,796 in 2014 through the state Department of Mental Health—for Alzheimer's caregiver respite, explained Beth Sulkowski, vice president of communications and advocacy.

Rising need for care
The Alzheimer's chapter partners with the Office on Aging and its respite care program to ensure that people are connected to the right resources.

South Carolina has about 79,000 people—11 percent of the older population—living with Alzheimer's. That total is projected to grow to 120,000 people by 2025.

"There's a big need there—not just for the people who have Alzheimer's themselves but the family members who are providing the care daily," Sulkowski said. "Those care needs are constantly increasing, and eventually it becomes a 24-hour job for the caregivers."

AARP South Carolina has also made respite assistance for caregivers one of its top legislative priorities this year.

In 2014, the General Assembly approved $2 million in onetime funding for respite vouchers for all family caregivers. Coretta Bedsole, AARP associate state director for advocacy, said the vouchers enabled caregivers to take a break and tend to their personal needs.

Giving caregivers much-needed respite services, Bedsole said, can help a loved one delay or avoid expensive institutionalized care.

Bedsole said AARP South Carolina is urging lawmakers to make the caregiver respite vouchers a regular part of state funding.

McMaster said he plans to address caregiver support: "I will work with the governor and General Assembly to ensure that caregiver and respite programs receive the attention required to strengthen them in every way possible."

Holly Fisher is a writer living in Mt. Pleasant, SC.