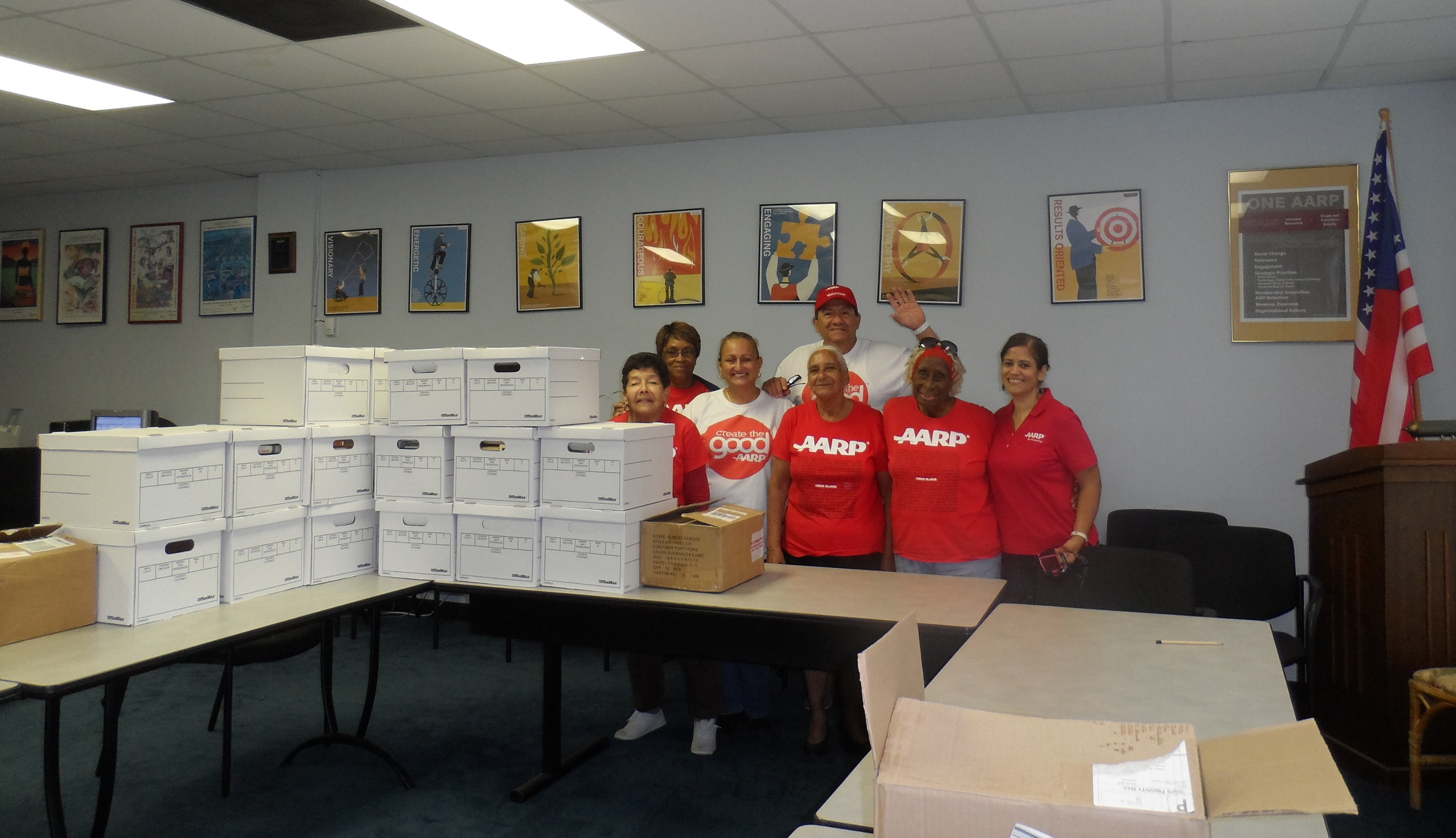 A dozen AARP VI volunteers joined AARP VI State Office staff bright and early on Wednesday, September 11 th to participate in the 12 th recognition of AARP's National Day of Service. They gathered to work on "Operation Paperback"; a special project that provides reading materials to soldiers overseas.

For the past 12 years AARP has diverted from its routine business to conduct a service project in various communities across the United States as a way of demonstrating their support and concern for Americans touched by the tragedy that occurred on September 11, 2001. What began as an immediate reaction to a horrific event in one community has become an annual tribute to all American communities. Nationally, AARP now designates September 11 th as its NATIONAL DAY OF SERVICE and on this day AARP volunteers and staff across the country perform some type of service for the benefit of their community members. In the past, AARP Virgin Islands has conducted events which have focused on organizing food drives, serving food to the homeless, or collecting essential supplies for a local school.

This year's project, "Operation Paperback" connected Virgin Islanders with family members and friends overseas, who are serving our nation as soldiers. Through this activity, hundreds of new and gently used books and periodicals were collected, classified, processed, packed and mailed to the centralized Operation Paperback processing unit for forwarding to soldiers overseas.

"This way," states Noemi Garcia, the 2013 AARP Day of Service Project Leader, "Each book received by a soldier can help them feel less homesick when they are able to sit and get lost in a good book."

Inserted into each book was also a note from the AARP State Director, Denyce Singleton, which thanked the book recipient for their dedicated service to America, wished them a safe return home and invited them to stay in contact with AARP via email, website activities or on Twitter.

Men and women in the service are not just English speakers so that is why Hispanic AARP volunteers joined with their English-speaking Crucian brothers and sisters on this most rewarding and fulfilling task to make certain the books were sent in Spanish as well as English.

AARP Virgin Islands selected "Operation Paperback," as its Day of Service project because the organization has a great track record in service to our troops. It is a non-profit organization that is incorporated in the state of Pennsylvania. They have been sending books to the troops overseas, to veterans and their families since 1999 and to date, have shipped over 1.9 million books to military members around the globe.

AARP, champions for the rights of people over age 50. Territorially, AARP VI works tirelessly to advocate, educate and inform volunteers, members and the general public about issues impacting them and their families. You learn all the latest AARP news and information by visiting the AARP VI website at www.aarp.org/vi or join us on Facebook at www.facebook.com/aarpvi as well as on Twitter www.twitter.com/AARPVI in English and www.twitter.com/AARPVIEsp in Spanish.