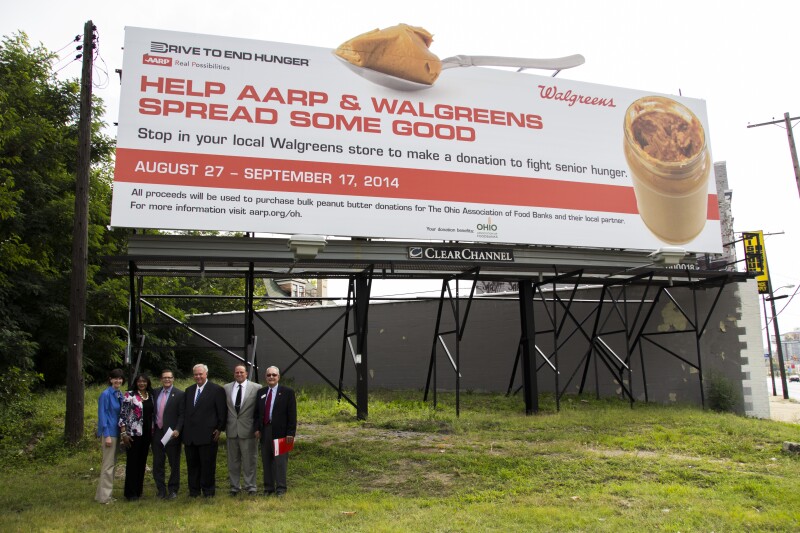 Starting today (Wednesday, August 27, 2014) and continuing through Wednesday, Sept. 17, all 272 Walgreens stores in Ohio and Northern Kentucky will accept Spread Some Good donations of $1 or more at checkout registers to supply peanut butter to local food pantries across the state.

"AARP Ohio initiated Spread Some Good four years ago when pantries reported senior hunger had risen dramatically," Mike Barnhart, who volunteers as state president for AARP Ohio, said at this morning's news conference kicking off Spread Some Good 2014. "Food insecurity remains high with a little more than 7% of Ohioans age 60 and over struggling to get adequate nutrition," he noted. "For seniors, poor nutrition can exacerbate health problems, lead to heart attacks and rob them of their independence. Spread Some Good is designed to help pantries feed seniors who may have dietary restrictions."

According to Kristin Warzocha, Cleveland Food Bank's vice president of external affairs, "There are thousands of seniors who simply cannot make ends meet and are faced with the realities of hunger. Everyone who contributes helps us provide nutritious food and makes a real difference in these people's lives."

Spread Some Good donations will allow the Ohio Association of Foodbanks and Wesley Community Services to make a bulk purchase of low-salt, low-sugar peanut butter. That peanut butter will be shipped to pantries throughout the state based on the donations collected in each community. The more donated in a community, the more peanut butter goes to its pantry.

"We're committed to the communities we serve," said Joseph Prignano, manager for Walgreens Cleveland North District. "We're eager to help customers Spread Some Good to local food pantries."

AARP Ohio launched Spread Some Good 2014 this morning below a unique billboard at East 81st Street and Carnegie Avenue in Cleveland provided by Clear Channel Outdoor.

"We believe in taking an active role in making our neighborhoods better places to live," said David Yale, vice president of public affairs for Clear Channel Outdoor. "And this begins with supporting local non-profits and community organizations like the Ohio Association of Food Banks as they work to ensure the health and well-being of older adults throughout all of Ohio."

This year the Outdoor Advertising Association of Ohio collaborated with AARP to place 40 Spread Some Good billboards in metropolitan areas.

"We're kicking off Spread Some Good on this corner to focus on the good Ohioans can spread in this neighborhood and across the state by making donations at Walgreens stores to supply peanut butter to local food pantries," Barnhart said.

Why peanut butter?


"Peanut butter is high in protein and fiber, is easy to eat and digest, contains 'good fats' and remains stable on shelves," Barnhart explained. "Food pantries tell us peanut butter is popular because a jar is good for a several meals and snacks."

John Gremer, Walgreens Director of Community Affairs, points out, "The partnership between Walgreens and AARP has grown since its inception in 2009. Spread Some Good supplements our current partnership which is bringing free health services to over 3,000 communities in the United States and Puerto Rico through our "way to well" tour. We look forward to reaching more individuals starting off right here in Ohio helping our senior population."



Related Articles:

Spread Some Good on Tumblr

Spread Some Good on Pinterest