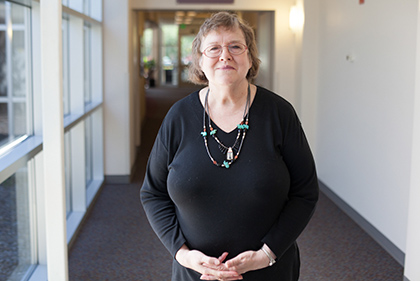 By Dana E. Neuts

In her 35 years as a registered nurse, Lynne Treat, 66, of Chehalis, saw thousands of patients with chronic diseases such as diabetes deplete their savings to pay for medical care. This was particularly true of dialysis patients, including end-stage renal patients, a medically fragile population that requires costly care.

"I encountered many uninsured individuals desperately in need of health care," Treat said. "Some received care in a community indigent clinic, but most relied on the local emergency room."

When Treat heard about the federal Affordable Care Act (ACA) in 2009, she was excited to learn that people finally might be able to get the health insurance they needed. She wrote to her U.S. senators and her congressman and attended town hall meetings where the ACA was discussed.

"I felt like potentially I had some impact by making my interests known," Treat said.

Since then, the now-retired nurse has met with lawmakers during the 2013 legislative session and participated in a "Cover Me" rally at Seattle's Pike Place Market to promote the state's Medicaid expansion, Apple Health, which was supported by AARP Washington. She has volunteered with AARP Washington to help at health law meetings across the state.

Beneficial provisions

Treat said she wants people to know they can benefit from ACA provisions that prohibit insurance companies from rejecting or charging more to customers with preexisting conditions, as well as alerting them that certain preventive care such as Pap tests and mammograms will be given without requiring a copayment.

On a personal level, Treat and her husband, Michael, already benefit from ACA provisions that are in place, including a free annual wellness visit for Medicare beneficiaries.

Among the changes that will affect the roughly 167,000 uninsured Washingtonians ages 50 to 64 is the implementation of a state health insurance exchange, the Washington Healthplanfinder. Individuals, families and small-business owners can shop for health plans online at wahealthplanfinder.org.

Open enrollment began Oct. 1, and people who enroll by Dec. 15 will receive coverage starting Jan. 1. Those who enroll later will receive coverage about a month after they sign up.

Individuals with annual income up to about $46,000 may be eligible for federal subsidies and tax credits on a sliding scale, helping an estimated 90,000 Washington residents ages 50 to 64 to be able to afford health insurance.

Eight health insurance carriers, with 46 combined plan options, had been approved in Washington by early fall. Not all plans are available in every county, but nearly every eligible Washingtonian has at least 18 plans to choose from, and most residents have at least two dozen options, according to the Office of the Insurance Commissioner.

Medicaid expansion

In addition, Washingtonians between the ages of 19 and 65 with income up to approximately $15,000 will be eligible for the Medicaid expansion, including about 40,000 people between the ages of 50 and 64. The federal government will pay 100 percent of coverage costs for these individuals through 2016 and 90 percent after that.

To prepare for these changes, AARP Washington is ramping up its efforts to spread the news, hosting webinars and community events, using mail, email and social media. AARP and about a dozen volunteers like Treat are available to give presentations to groups to ensure they have the information they need to take advantage of the ACA.

"This presents our best opportunity to extend health care benefits to many, many more American people," said Treat.

Groups and organizations can request an AARP speaker by emailing waaarp@aarp.org or by calling toll-free 866-227-7457.

For more information about the ACA, go to healthlawanswers.org.

Dana Neuts is a freelance writer based in Seattle, Wash.