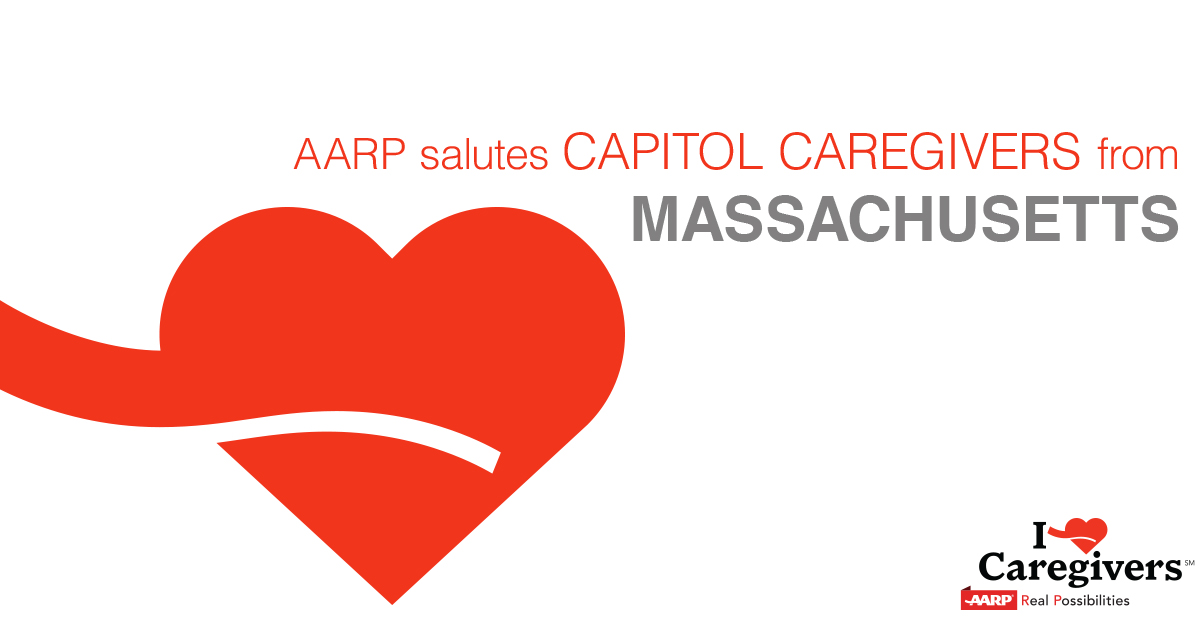 To recognize their work in supporting family caregivers in Massachusetts, AARP names state Reps. Christopher Markey and James O'Day, along with former state Rep. (now state senator) Anne Gobi, and former state Senator Gale Candaras, as 2014 "Capitol Caregivers," a bipartisan group of 46 state legislators and 3 governors from 19 states. (See photos at bottom, which are being added as each award presentation takes place.)

These elected officials have advanced policies to help family caregivers who are making it possible for older Massachusetts residents to live independently at home—where they want to be.

"AARP thanks state representatives Christopher Markey, Anne Gobi and James O'Day and former state Senator Gale Candaras for championing the Uniform Adult Guardianship and Protective Proceedings Jurisdiction Act last year," says Mike Festa, state director of AARP, which serves more than 800,000 members age 50 and older in Massachusetts. "They provided integral leadership to pass the Act into law that will help make the lives of family caregivers in Massachusetts a little bit easier."

The Uniform Adult Guardianship and Protective Proceedings Jurisdiction law outlines a procedure for transferring a guardianship or conservatorship to another state and for accepting a transfer, helping to eliminate the expense and wait. This law also helps to facilitate enforcement of guardianship and protective orders from other states by authorizing registration in Massachusetts.

More than 1.2 million Massachusetts residents provide unpaid care for their older loved ones as family caregivers—valued at about $10.9 billion annually. They help with bathing and dressing, meal preparation, managing finances, transportation, grocery shopping and more. Today, family caregivers also perform medical tasks like wound care, injections, and complex medication management.

  Family caregiving is one of these rare issues that crosses geographic and political lines, says state director Festa. "This isn't a Democratic issue. It's not a Republican issue. It's a family issue." — AARP MA State Director Mike Festa  

Passage of the Uniform Adult Guardianship Act into law is just a first step to providing help for family caregivers," says state director Festa. "AARP will continue to fight for Massachusetts family caregivers and their loved ones in 2015: more support, help at home, workplace flexibility, and training."

AARPMA's 2015 Legislative Priorities
AARP Massachusetts legislative priorities for 2015 include the following:

The Caregiver Advise, Record, Enable (CARE) Act: To help family caregivers when their loved ones go into the hospital, requiring hospitals to record the caregiver's name in the patient's medical record, notify the caregiver before the patient is discharged, and instruct the caregiver on any medical tasks they will need to perform once their loved one returns home.
Nursing Scope of Practice/Delegation: To cut through the red tape and allow advance practice registered nurses to have the full authority to heal—especially important for older patients who receive care at home.
Workplace Flexibility: To help family caregivers so they don't have to worry about losing their pay—or their jobs—when they have to take time off work to bring their older loved one to a doctor's appointment.


To also recognize America's silent army of family caregivers, AARP recently launched a new initiative, " I Heart Caregivers," to spotlight the stories of these unsung heroes, and the great labor of love they perform every day.