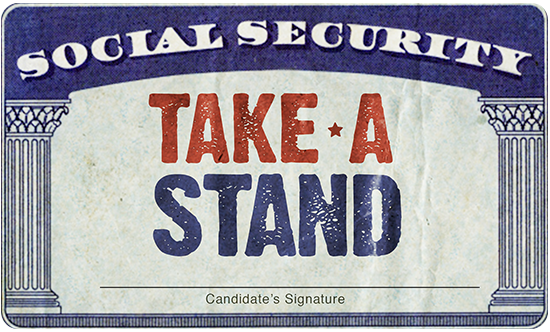 It's a promise that's been kept for generations. You pay into Social Security, you get the benefits you earned. But to keep that promise for future generations, Social Security needs to be updated for the 21st century. If our leaders don't act, future retirees could lose up $10,000 a year. Every year our leaders wait and do nothing, finding a solution grows more difficult.

This fall, AARP is asking candidates to "Take a Stand" when it comes to ensuring that Social Security is strong not just today, but for our kids and grandkids when they need it too. As part of these efforts, AARP New Jersey has been reaching out to candidates running for Congress and asking them to Take a Stand. So far, we've met with almost all of New Jersey's 2016 candidates for Congress, including both incumbents and challengers, and we are getting ready for a number of additional activities across the state as election season gets underway. These include debate watch parties, local Take a Stand presentations, and more. To learn more about Take a Stand, visit takeastand.aarp.org.

For nearly 60 years, AARP has been fighting for Social Security, guided by our principles and our commitment to keep the promise for future generations. Fighting to ensure that hard working Americans who pay into Social Security get the benefits they've earned.