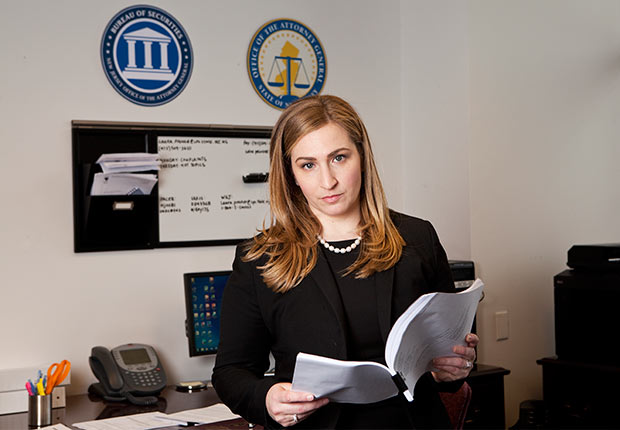 By Christina Hernandez Sherwood

Last fall, someone called Ravindra Kumar's home in Kendall Park claiming to represent the Internal Revenue Service. The caller said the IRS had a case against Kumar and needed his attorney's name. Kumar, a retired accountant, told the caller to send the complaint in writing.

Three months passed with no letter. But then Kumar, 84, got another call. At that point, he knew it was a scam. "I'm not that kind of person," Kumar said. "I'm honest. I don't have anything to hide from the IRS."

Fraudsters seeking to elicit personal information and money—through calls soliciting phony donations, letters touting "sweepstakes" wins and various other methods—are hardly unique. One in five Americans 65 and older have been victimized by financial fraud, according to the Investor Protection Trust, an investor education nonprofit.

"We know that the older population can be vulnerable," especially when nearing retirement, said C. Brian McGuire, AARP New Jersey associate state director of advocacy. "Many have money and they are, or are going to be, on a fixed income. That leads to their vulnerability if they lost their life savings."

AARP and others are working to protect New Jersey residents from these potentially damaging scams. The AARP Fraud Watch Network ( aarp.org/fraudwatchnetwork) offers scam-prevention education and antifraud resources by state and real-time online scam alerts.

Online alert system
More than 2,000 New Jersey AARP members have signed up for the alerts, McGuire said. "The idea of a network is so people become aware of things and share that information with others. We're all in this together."

This year, AARP plans to work with the New Jersey Bureau of Securities to further educate residents about fraud, McGuire said. Bureau Chief Laura H. Posner described some of the most prevalent scams targeting older adults:

Selling a financial product unsuitable for a person's age or position in life.
Inviting people to a free lunch or dinner seminar and guilt-tripping them into buying a product that's fraudulent or of questionable value.
Targeting a group, such as church parishioners or members of a senior center.


There are several ways to protect yourself from financial fraud, Posner said. Contact the bureau at 866-446-8378 toll-free or go to njsecurities.gov. Find out if the product you're considering is registered federally or with the bureau and whether the financial professional you're working with is registered.

"If they're not," Posner said, "that's a major red flag."

Take the time to understand the product you're being sold, Posner said, and consider reviewing the information with someone you trust. "If you can't understand what they're selling you," she said, "it's probably something you shouldn't be investing in."

Assemblywomen Amy Handlin (R-Monmouth), whose relative lost thousands to scammers, and Sheila Oliver (D-East Orange) are spearheading a statewide informational campaign on fraud.

"The most effective way to educate people about the dangers of the scammers is by using the same technique the scammers exploit," Handlin said, "which is one-on-one personal interaction."

The legislators are asking businesses such as banks and health care providers to download a Division of Consumer Affairs brief on fraud—and discuss it with their clients. "That could make all the difference in the world," Handlin said. "It's not enough to just put a brochure on a table."

Handlin said she's also exploring ways to strengthen state laws to fight fraud, but many scammers are offshore. "These are among the most despicable criminals I have ever come across," she said. "We have a moral obligation to go after these predators in ways that will hopefully be as creative as they are."

Christina Hernandez Sherwood is a writer living in Collingswood, NJ.