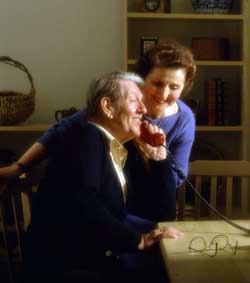 "There's no place like home" takes on a different, more important meaning as people grow older. Home is a sanctuary, a place of comfort, confidence and safety, and hearing loss is a common culprit among seniors.

According to the National Institute on Deafness and Other Hearing Disorders, about a third of seniors aged 65 to 74 and nearly half of those older than 75 have some degree of hearing loss. Because it can occur slowly over a long period of time, some seniors often don't even realize their hearing is compromised.

More than frustrating, however, hearing loss can be downright dangerous. It diminishes a person's ability to understand their doctor's advice, respond to the telephone or hear smoke alarms. Fearing for the senior's safety and not knowing of all options available, loved ones may prematurely encourage them toward assisted living rather than take steps to help preserve their independence.

Telecommunications Access Iowa (TAI) is dedicated to helping those with hearing loss obtain special telecommunications equipment that can keep them in their homes, promote independence and make life enjoyable.

Working closely with Relay Iowa, a telephone relay service, TAI provides vouchers for up to 95 percent of specialized telecommunications equipment costs.

This equipment allows hard-of-hearing individuals to speak directly over the phone, relay information to communication assistants who speak typed information to a hearing party, or communicate via a captioned telephone.

A partial list of the major types of equipment TAI offers includes amplified telephones, speech amplified phones, amplified ringers, captioned phones and the TAI iPad Program that provides iPads with pre-loaded accessibility apps that are specifically designed to assist individuals who are Deaf, Hard of Hearing, or have speech difficulty. These devices are typically broken down by type, depending on the individual's degree of hearing or speech difficulties.

How to take advantage of TAI services
There are some qualifications that must be met and some information you'll need to provide in order to be considered for a voucher. Here are the three easy steps.

1. Download and fill out the application Visit www.relayiowa.com/tai/how_to_apply.htm and download the application form.

2. Get the required signature: You must receive a signature by your doctor, audiologist, rehab counselor, state or federal agency representative, or any other licensed professional in the field of hearing or speech. This is to verify the need for specialized equipment

3. Call (512) 282-5099, or toll-free at (800) 606-5099 for an appointment: The TAI Phone Showroom is located in Des Moines at 6925 Hickman Road. Once you're there, a TAI professional will talk with you about your specific needs and help demonstrate equipment that best meets your needs.

If you or someone you love has hearing loss that traditional telephone equipment just won't accommodate, contact TAI to explore ways you or your loved one can continue to thrive in the place where everyone wants to age with independence and dignity – at home.