** High-Priority Nursing Home Quality Legislation Approved **
Older Texans have cause to celebrate several major accomplishments of the 2017 Texas regular legislative session.

In the final hours of the session, lawmakers approved a top priority for AARP Texas – major nursing home quality reforms that seek to hold operators of nursing homes and other long-term care facilities more accountable when they have been found to have done harm to their residents.

This session, Texas lawmakers also approved numerous AARP-backed bills that, among other things, will protect seniors' financial future, improve access to health care, and meaningfully help unpaid family caregivers and their families.
"The Legislature deserves recognition for advancing the wellbeing of older Texans and for making progress on certain issues that affect consumers of all ages," said Bob Jackson, director of the nonpartisan and nonprofit AARP Texas, which has more than 2.3 million members in the state and advocates for issues that matter to all people age 50 and older.

Bills sent to the governor include ones that would:

* Strengthen nursing home oversight and accountability to better protect the state's 93,000 nursing home residents;
* Expand rights for Texas' 3.4 million unpaid family caregivers, assuring they'll be able to properly care for their loved ones when they return home from the hospital;

* Help fight elder financial exploitation by making it easier to stop fraudulent bank transactions before it's too late;

* Provide comfort to families by clarifying powers of attorney and guardianships;

* Bolster consumers' power to prevent and challenge surprise medical bills; and

* Improve access to medical providers through "telehealth," allowing patients to meet with physicians via smartphone, tablet or computer.

Beyond what the Legislature approved, Jackson said Texas lawmakers also deserve praise for having thoughtfully deliberated over state spending and policy issues brought to them by AARP. He said that includes such things as proposals that would have removed the red tape that that keeps nurses in Texas from practicing to the full extent of their education and licensure.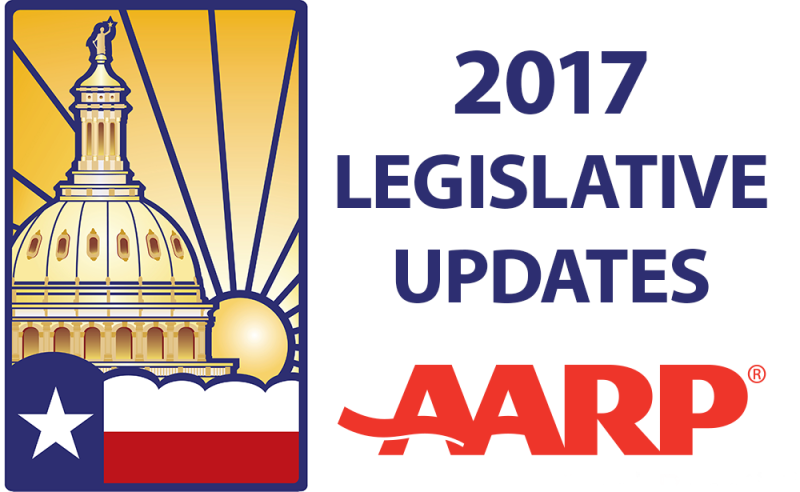 Some of the AARP-supported measures sent to the governor are:
SB 1 – The new state budget includes funding for several important initiatives supported by AARP, including the Lifespan Respite Care Program, which makes available respite services for family members who care for a person of any age with any chronic health condition or disability. Funding for new guardianship oversight programs also is included in the budget.
HB 2025 – Amended to include the provisions of Senate Bill 932, which revises the state's "Right to Correct" law to make it more difficult for serious violations of nursing home care to be ignored. The bill empowers the Texas Health and Human Services Commission to substantially change how nursing homes are penalized. The bill also provides for training and funding for people who work in facilities that care for those with Alzheimer's or dementia.

HB 3921 – Improves the reporting of financial exploitation targeting older Texans and gives new tools to banks and securities firms to place a temporary hold on suspicious transactions.

SB 507 – Bolsters patient protection against surprise medical billing. Signed into law by Governor Greg Abbott, the new law takes effect Sept 1 and will expand a successful but not widely used state mediation process for victims of surprise bills. Medical providers and insurers will have to clearly explain patients' rights to mediation and how they can seek mediation for bills that exceed $500.

HB 3276 – The bill seeks to protect consumers from surprise medical bills at freestanding emergency rooms. The bill requires those neighborhood emergency clinics to disclose which health benefit plan's provider network it's in or to make clear to patients that it is not a participating provider in any such network.

HB 2425 – The CARE (Caregiver, Advise, Record, Enable) Act helps Texans when their loved ones go into the hospital and as they transition home. The measure would ensure hospital patients' designated family caregivers are offered instruction in providing needed care at home.

SB 1107 – The measure allows patients to meet with physicians via smartphones, tablets and other computers in what's known as telehealth or telemedicine.

SB 667 – When people are incapable of managing personal decisions and property, the court can authorize a guardian to act on their behalf. This bill expands a pilot project to regulate guardianship programs. Other guardianship bills supported by AARP that were sent to the governor include: SB 39, SB 40, SB 1193, and HB 1043.

###
About AARP
AARP is the nation's largest nonprofit, nonpartisan organization dedicated to empowering Americans 50 and older to choose how they live as they age. With nearly 38 million members and offices in every state, the District of Columbia, Puerto Rico, and the U.S. Virgin Islands, AARP works to strengthen communities and advocate for what matters most to families with a focus on health security, financial stability and personal fulfillment. AARP also works for individuals in the marketplace by sparking new solutions and allowing carefully chosen, high-quality products and services to carry the AARP name. As a trusted source for news and information, AARP produces the world's largest circulation publications, AARP The Magazine and AARP Bulletin. To learn more, visit www.aarp.org or follow @AARP and @AARPadvocates on social media.

FOR MORE INFORMATION: Contact Mark Hollis at 512.480.2429 or 512.574.3739