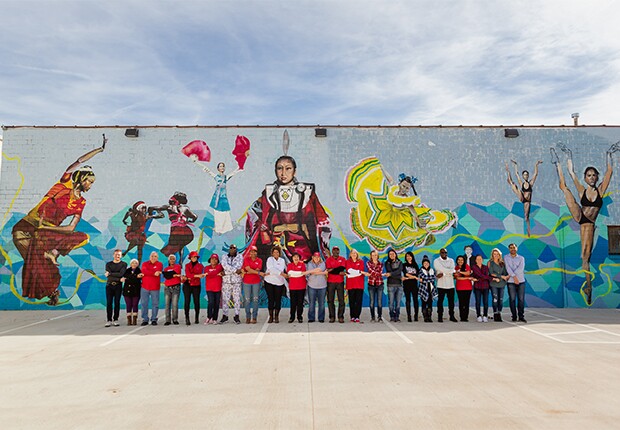 By Laura Tillman

AARP Texas is working hard to make communities more livable for everyone, whether it's new curbs for easier walking or an art installation to brighten a public space.

For those aging in place and confronting mobility challenges and fixed incomes, livability can mean the difference between connecting with the community or growing isolated. Here's how five Texas cities are improving life for their residents.

Houston

Since August 2017, when Hurricane Harvey damaged hundreds of thousands of homes, AARP in Houston has been helping older adults rehabilitate their residences from flood and wind damage. Houston has joined the 100 Resilient Cities network, preparing the city for future storm threats and climate change.

San Antonio The City Council passed a budget in September that added an additional $17.1 million (for a total of $25 million) to help meet the recommendations of last year's Mayor's Housing Policy Task Force.

Affordable housing in San Antonio is an important quality-of-life improvement that will make the city more livable for scores of residents.

"AARP in San Antonio is pleased that the housing policy framework addresses concerns of the 50-plus population, such as affordability, rehabilitation and modification," said Lisa Rodriguez, AARP in San Antonio advocacy director.

Austin

Known for the University of Texas and its music scene and tech community, Austin also has one of the fastest-growing populations of people ages 55 to 64 in the nation, according to the 2010 census.

AARP Texas, together with AustinUP (a community alliance that works on issues related to the future of aging), is implementing an Age-Friendly Action Plan with the city government. Austin's 2019 budget includes funding for hiring a full-time employee charged with transforming the city into a model for aging.

"We need to change the perception of what aging means in a world where people are living longer, fuller lives," said Teresa Sansone Ferguson, executive director of AustinUP.

"What we do now will help future generations," she noted.

Dallas

Melodía Gutiérrez, AARP advocacy director for Dallas-Fort Worth, was inspired by her arts experience to create a community mural, which depicts multicultural women and AARP founder Ethel Percy Andrus.

Gutiérrez brought together a diverse group of area residents to use a paint-by-number system so that anyone could participate in crafting the mural.

The resulting artwork transformed a parking lot in an economically depressed neighborhood into a beautiful gathering space. Visit the mural at 1902 S. Lamar St. in Dallas.

Fort Worth

AARP in Fort Worth has started an Age-Friendly Business certification program for local companies. Gutiérrez expects the roster of participants to grow exponentially this year.

To qualify, businesses must prove they are compliant with the Americans with Disabilities Act, ensure that sound and lighting levels are appropriate for older adults, type is large print and easy to read, and signage is clear.

Gutiérrez credited Fort Worth Mayor Betsy Price (R) as a "visionary" who understands that development must consider all generations.

Laura Tillman is a writer living in McAllen.