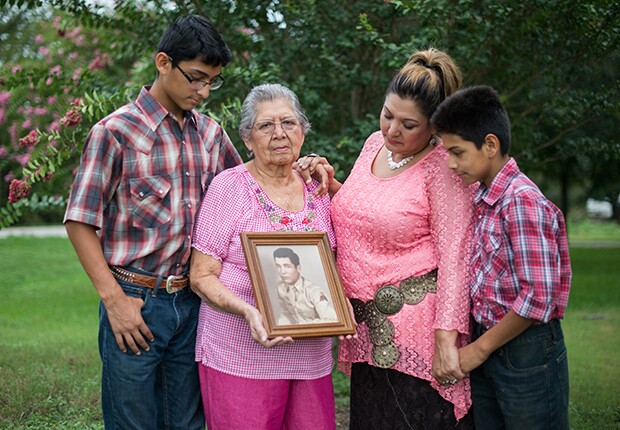 By Thomas Korosec

Sandy Trevino's father was always communicative, even if advancing dementia meant that might be only a nod or a smile, she recalled.

So when she found Paul Trevino "completely out of it" in his Austin-area nursing home, she knew something was wrong. "It was odd behavior for him," she said. "He was drooling and he was somber. Normally he was alert. He might not have been talking, but there was always laughter and smiling."

When she began looking into her father's treatment, she discovered that he hadn't been given enough of the medication prescribed for his Parkinson's disease and that he might have been given too much of another, an antidepressant.

Trevino, 46, of Dale, who processes disability claims for Texas, said she suspected her father was given the antidepressant as a form of chemical restraint because around sundown "he would holler a lot and they wanted to calm him down." But, she added, the family could not prove it.

In the state's 1,200 nursing homes, about 1 in 5 residents—18,000 people each month—are being inappropriately given antipsychotic drugs, according to the most recent report from the Centers for Medicare and Medicaid Services.

State's low ranking
The federal survey found that only eight other states have a higher prevalence of antipsychotic use for long-stay nursing home residents.

"The misuse of antipsychotic drugs as chemical restraints is an all-too-common but preventable practice," said Bob Jackson, state director of AARP Texas. "It's time for the industry, state regulators and legislators to end this harmful practice."

Antipsychotic drugs, approved for treatment of mental illnesses such as schizophrenia and bipolar disorder, are sometimes used off-label to suppress anxiety or aggression in individuals with Alzheimer's disease or other forms of dementia. But the drugs have myriad side effects, including higher blood sugar and cholesterol levels, weight gain and decreased alertness that can lead to falls.

"Their use may be more about managing behavior than the wellbeing and mental health of the residents," said Amanda Fredriksen, AARP Texas associate state director for advocacy.

Texas, like most states, has made some progress in reducing the use of such drugs in nursing homes, lowering the prevalence from nearly 1 in 4 residents in 2014.

"We remain committed to doing so by making substantive, systemic changes that will last, rather than making quick fixes," said Cecilia Cavuto, spokeswoman for the state Department of Aging and Disability Services, which licenses and regulates nursing homes.

She said the agency has instituted training programs and an initiative that encourages facilities to take at least one resident a month off antipsychotics. A program that uses music therapy as an alternative approach has been instituted in 124 nursing homes, and will begin in 150 others in November, she said.

Fredriksen said the high turnover rate among nursing home staff and a regulatory system that hands out few penalties likely contribute to the state's low ranking.

Under current law, nursing homes cannot be assessed penalties for any but the most serious violations if the facility corrects the problem within 45 days. A bill to change that law did not advance in the last session of the Legislature. The issue is likely to come up again next year, Cavuto said.

Fredriksen said people with loved ones in nursing homes should ask questions about their medications. Trevino, whose father died in 2014 at age 82, said, "I think most people are unaware of what happens to people in nursing homes once they shut the door and leave."

Thomas Korosec is a writer living in Dallas.