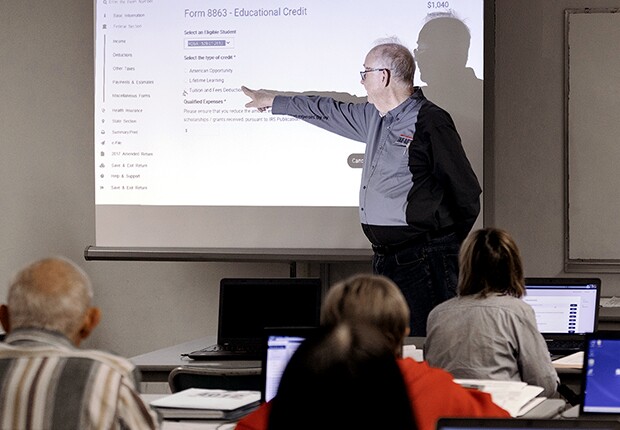 By Enrique Rangel

Haven't filed your tax return yet? Well, there's free help nearby from thousands of trained AARP Foundation Tax-Aide volunteers.

"We do mainly low-income people and the elderly," said Bart Hatfield, 73, a retired chemical engineer who lives in the Houston suburb of Sugar Land. Volunteers emphasize that the service is available to all but does not include preparation of business or complex returns.

A Tax-Aide volunteer since he retired in 2001, Hatfield oversees the western region of the program, which includes Texas, Colorado and New Mexico. It's his way of giving back to his community.

"I thought this was a way to help people," he said.

Launched 50 years ago by four volunteers, Tax-Aide is the largest free tax preparation program in the country. It has about 35,000 volunteers nationwide working in over 5,000 sites.

Last year there were at least 2,000 volunteers in Texas, according to AARP Foundation. They worked at 260 sites, usually libraries, community centers, malls and senior centers.

Tax-Aide assistance was provided to 162,748 state residents in 2017. Cumulatively, the total tax refunds those individuals received exceeded $100 million.

All Tax-Aide tax preparers are trained and IRS-certified every year. Each return is reviewed by another volunteer. "That helps ensure accuracy," said Anne Ubertini, 50, an Austin volunteer and a tax accountant.

Bruce Kujawski, 79, of San Antonio, a volunteer for 15 years and a district coordinator, said many of the people he and his colleagues help are older residents struggling financially.

"People not only save money for the preparation but they may also get a larger refund," said Kujawski, a retired Air Force officer. "It's very rewarding for us to see them smiling when they see their returns—they're so thankful."

A major challenge in San Antonio and the Houston area is recruiting enough bilingual volunteers, especially Spanish speakers.

"Our volunteers are pretty representative of the communities they serve," Hatfield said. "We have a wide variety, but we are short in all the languages, and we could use more volunteers."

Hurricane's impact
This year, volunteers in Houston and other coastal communities face a big task in assisting taxpayers whose homes were heavily damaged or destroyed by Hurricane Harvey last summer, Hatfield said.

Volunteers have historically not been able to prepare returns involving casualty losses.

"We don't do complicated returns," Kujawski said. "Rental properties are out of our scope. If they had a major loss, they would have to go to a paid preparer."

Many communities were severely damaged, and in the aftermath of the storm, some Tax-Aide sites have been forced to move from their usual locations.

Rockport, on the coast south of San Antonio, was hard hit, and its Tax-Aide site has been moved to Portland, about 30 minutes away.

Taxpayers using Tax-Aide should bring a photo ID, Social Security cards for everyone on the return and a copy of last year's return. Itemizing deductions? Bring documents showing dividends, medical expenses, and payment of home mortgage interest and property taxes.

For more on the program and to find the closest Tax-Aide site, go to aarp.org/taxaide or call 888-227-7669 toll-free.

Enrique Rangel is a writer living in San Antonio.