By 2030, the number of older Texans is expected to increase by 3 million, which is more than the population of 15 states and the District of Columbia, and nurse practitioners will play a crucially important role in providing their care, according to Texas Nurse Practitioners (TNP).

To care for this growing population, particularly amidst the state's ongoing healthcare workforce shortage, Texas must make it easier for patients to access these caregivers by removing outdated, needless regulatory obstacles. A 2022 poll conducted for AARP of Texas voters age 50 and older found that 83 percent support NPs as primary care providers.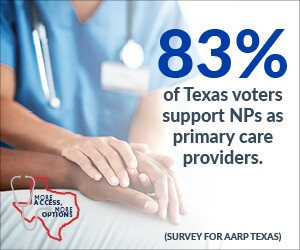 The need to improve access to medical care is a race against time.

"As the number of Texas seniors soars, so will the instances of age-related conditions and needs, and receiving trusted, quality and timely care close to home is imperative," said TNP President Cindy Weston, DNP, APRN, CCRN, CNS-CC, FNP-BC, CHSE. "Nurse practitioners are more likely to care for Medicare patients and practice in rural and underserved areas, so for many Texans, having access to a nearby nurse practitioner is a choice between receiving timely, quality medical care and receiving no care at all.

"Removing barriers to care is one no-cost solution to immediately addressing the state's severe medical workforce shortage."

In order to expand access and make Texas more competitive in attracting and retaining NPs, TNP, AARP, and many other organizations are working with Texas lawmakers to remove outdated, unnecessary regulations that are making it more difficult for them to practice fully in our state. Currently, outdated regulations require NPs to maintain unnecessary and often costly contracts with physicians before they can care for Texas patients, even though the physicians have no requirement to oversee NPs or even be in the same city. This is mandated for as long as the NP practices, no matter their experience level.

"In Texas, primary care physicians are in short supply, especially in rural areas," said AARP Texas Director Tina Tran. "Many patients have long waits for needed services. And as the population ages, the shortages continue to grow. Advanced Practice Registered Nurses can fill the gaps if they were allowed. Older Texans would benefit by ending the unnecessary restrictions on APRNs that prevent them from contributing to the full extent of their capabilities."

Recent studies indicate the extent to which NPs are contributing to patient care, particularly in the primary care:


NPs now represent 1 in 3 psychiatric mental health providers for Medicare patients.

More than 80% of NPs accept Medicare. Also, 78.7% of NPs serve Medicaid patients.

72.6% percent of Texas NPs are licensed in an area of primary care, and 70.2% of all NPs deliver primary care.

The number of new NPs outpaces physicians, and two-thirds of the practitioners added to the workforce between now and 2030 will be advanced practice clinicians like NPs.
National Nurse Practitioner Week is November 13-19, held annually to celebrate these exceptional health care providers and to remind everyone of the importance of removing outdated barriers to practice so NPs will be allowed to practice to the full extent of their experience and education. Governor Greg Abbott has issued a proclamation declaring NP Week in the State of Texas as well.

NPs provide essential care across a diverse spectrum of specialties, including mental health, family practice, geriatrics, pediatrics, and more. NPs are helping bridge gaps in our health care system, including addressing social determinants of health in an effort to achieve health equity and increase access to health care for all patients, as well as meeting the needs of patients in our rural communities throughout the state.

###

Information provided in this post is courtesy of the Texas Nurse Practitioners.