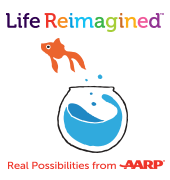 Where are you now in life and where do you want to go?

These questions and many others were explored by members of the Washington DC Chapter of 100 Black Men as they participated in an AARP Life Reimagined Checkup session held recently at AARP Headquarters. Additional Checkup sessions are scheduled and open to the public on January 22 and 27, 2015. Registration information is at the end of this article.

"It's an opportunity for people in these workshops to take a good look and reflect upon the past so they can better prepare for the future," says Life Reimagined Guide Andrew H. Griffin Jr., Ed.D.

"Life Reimagined gives people the opportunity to be proactive and thoughtful about what they want out of life," says Aimee Griffin, Esq. another Guide and an estate attorney. "Sometimes there are catalysts for a transition – a job loss, a death. Life Reimagined says look at your passions, look at where you want to be, knowing that life is a finite term. We must decide how we want to live it."

So you wonder, are these two people related? Yes, they're a father-daughter team.

"The greatest thing about us is that we're doing this because we both share the values of what we need to do to support people, to empower people," says Aimee. It's our common value so it is a joy to work with my dad every opportunity that I can."

"She keeps you on your toes," Andrew says of his daughter. She brings a youthful perspective and is forward thinking – not looking back. It's really an honor and a pleasure to see my daughter working with me."

"It's great to be able to be supportive of men "envisioning" their future. I felt really entitled to have this sort of look at these men and how they want to project their future and I felt honored to be in the room," added Aimee.




During the session for 100 Black Men, different levels of life were being explored. For the young, time doesn't seem that important. But the clock never stops ticking.

Andrew says that when you get older you may think that you don't have to do what you've been doing any longer. "I've worked long enough. It's time to relax," you might say.
AARP says "no" to that way of thinking and Andrew says that you have to build on what you have done in the past and pass it on. "You've got another level to go to. You're at this certain age and you should build upon what you have gained, what you have learned. Remain engaged," continued Andrew.

Aimee couples her real estate philosophy with what she does as a facilitator. "Create a legacy. Decide what your future will be. It fits part and parcel with Life Reimagined because we get a chance to identify what the "dash" will be between our birth date and our end date."

What are the next steps for those coming up and for those going further? How does one come up with a game plan?

"We need to reach out, reach out early," says Andrew. "One of the things we urge is that you have a partner, be part of a team. So often we do things by ourselves and that's a big mistake. When you set something up you need a partner that you're accountable to and vice versa. More than 75 percent go through with a project because they had somebody who provided support."

You could be due a Life Reimagined Checkup. Sign up for one of these sessions that will be offered in January.

January 22, 2015

6:00 – 8:00 pm

AARP Headquarters

601 E St NW

Washington, DC 20049

https://aarp.cvent.com/LRCheckup1



January 27, 2015

1:00 – 3:00 pm

Petworth Library

4200 Kansas Ave. NW

Washington, D.C. 20011

https://aarp.cvent.com/LRCheckup2

OR to register for either event, call: 1-877-926-8300

This story was written by AARP DC communications volunteer Rocci Fisch - See more at: https://states.aarp.org/heart-of-the-tax-aide-program-are-the-d-c-volunteers/#sthash.w9ilmn8b.dpuf
This story was written by AARP DC communications volunteer Rocci Fisch.