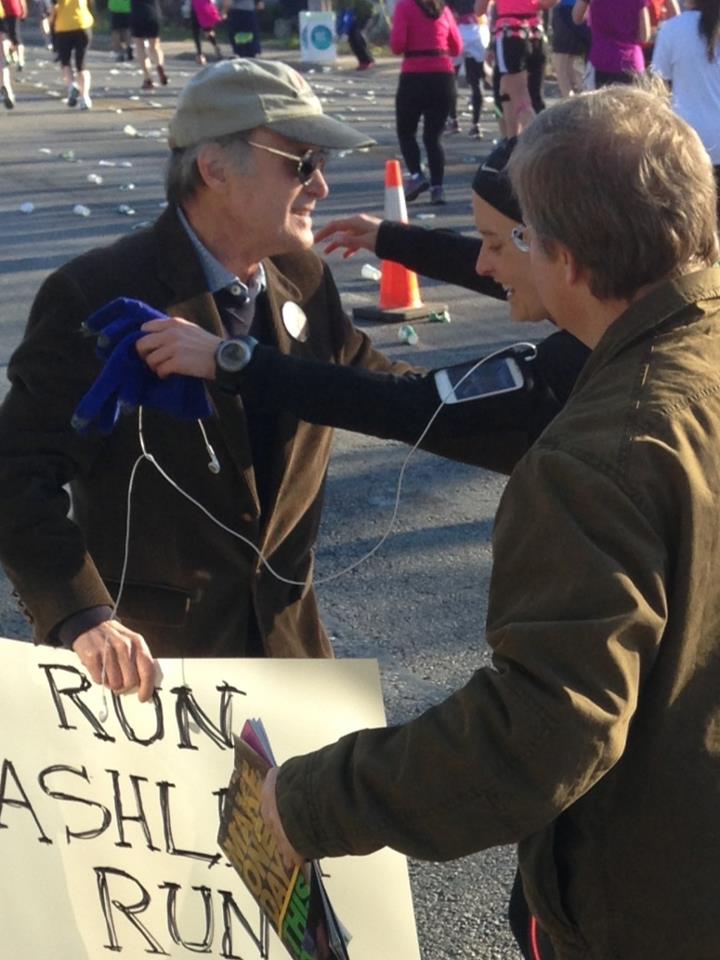 I was never an athlete. I was always the girl with her nose in a book. My parents enrolled me in T-ball when I was little. I was so bad the coach stuck me in the outfield where I could "do no harm." He was wrong. At a crucial moment in a critical game (as critical as a T-ball game can be) the ball came straight toward me and there I was… sitting in the dirt making a daisy chain. The coach asked my parents not to bring me back the next year.

At the age of 30, for no explicable reason, I took up running and unexpectedly discovered that I actually sort of enjoyed it. It makes you feel good. Who knew?

Being born and raised in Kentucky, ever since I ran that first mile, running the Kentucky Derby Half Marathon became my dream. Years of training and two half marathons later, I finally made it there. I toed the starting line on a beautiful April day in Louisville.

My Mama and Pops were there to cheer me on when I crossed the finish line, which made an already perfect day that much better. Well, except they didn't actually see me cross the finish line. Turns out they thought I'd "be slower." Thanks y'all. What didn't I know then? It was the only finish line my Mama would be at.

I kept running and Mama kept supporting me. She stood by me through bad runs, injuries and just sheer grumpiness. She sent me a 13.1 keychain with a note attached telling me that every time I looked at the keychain I should remember how very strong I am. That's the kind of person my Mama was. She built me up and encouraged me to be the very best, strongest version of me I can be.

Lately, my strength has been tested.

My beautiful Mama suffered from a ruptured brain aneurysm on July 3rd 2012. She fought as hard as she could to stay with us, but we lost her on July 26th. My Mama brought light and love into the lives of everyone she met. Her light shone brighter than anyone I have ever known.

After I lost her, I knew I had to do something. I knew I couldn't just sit by while this sudden and silent killer continued to take the lives of tens of thousands each year. Mothers, sisters, wives, fathers… So I ran. I ran to survive the pain. I ran to quell the rage. But, most of all, I ran to promote awareness.

I signed up to run the Austin Half Marathon on February 17 th to raise money for the Brain Aneurysm Foundation. I wanted to honor my beautiful Mama's memory and help keep another loved one with their family, where they belong.

I crossed the finish line last Sunday. And even though my Mama wasn't there, she was there. I carried her in my heart for all 13.1 miles. By the time I crossed that finish line, I had raised $4,630. Maybe someone somewhere will get to keep a loved one because of the good work of the Brain Aneurysm Foundation. I don't know. What I do know? My Mama is proud. And that's enough for me.