TRENTON – It's been three years since the New Jersey Division of Rate Counsel first asked the Board of Public Utilities to open a rate case to investigate the earnings of Jersey Central Power & Light.

Now, three years later, the BPU has not yet acted on this case, and every day JCP&L customers continue to be hurt.

This morning at the Stat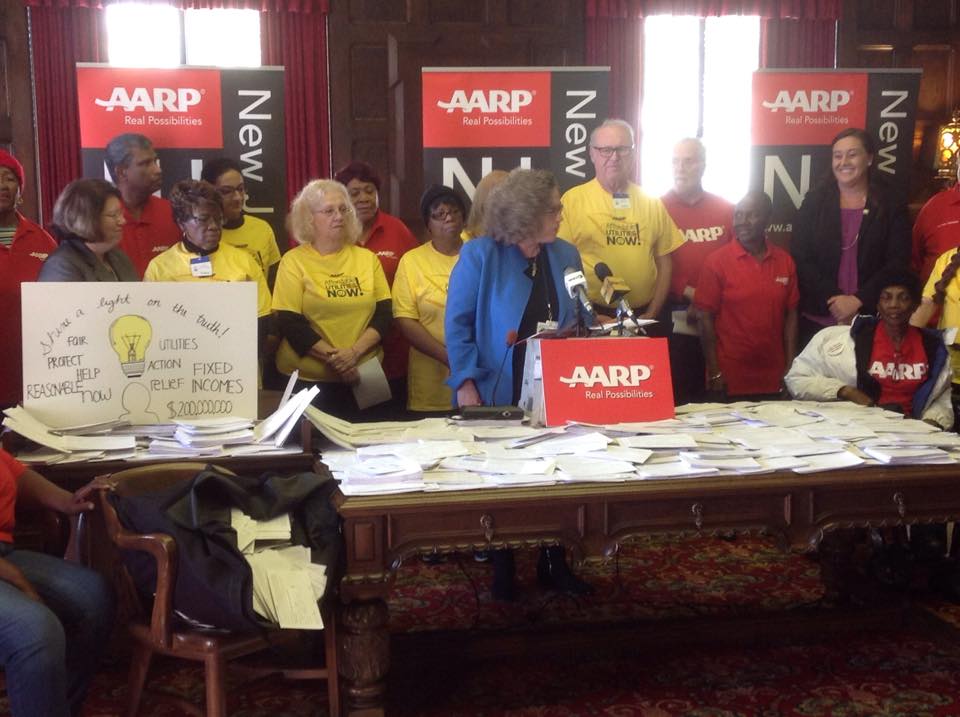 e House, thousands of AARP members and JCP&L customers said enough is enough in the form of over 6,000 petitions delivered to the Board of Public Utilities calling for the three-year-saga to come to an end, and a decision to be reached. AARP has also called for the establish
ment of provisional rates while permanent rates are being determined.

AARP New Jersey State President Dave Mollen said "JCP&L customers are being overcharged with each bill. It's time for the BPU to stand up for those customers by making a long overdue decision, and through the immediate establishment of provisional rates while permanent rates are being determined."

A number of key legislators whose constituents reside in JCP&L service areas also attended and spoke out at the press event. These include Senator Linda Greenstein (D-14), Assemblyman Wayne DeAngelo (D-14), and Assemblywoman Caroline Casagrande (R-11).

In addition, dozens of AARP members were in attendance at today's press event Many read and shared the comments of those JCP&L customers that are being hurt every day by the company's overcharges.



Here are a few of those comments:
Jack from Denville:
"Make the decision now!"
Alan from Boonton:
"It's time to do the right thing and resolve the issue in favor of JCP&L customers!"
Matu from Hackettstown:
"Does JCP&L wait three years to ask for a rate increase? Does the CEO of JCP&L wait three years for his raises/bonuses?"
Rene from Livingston:
"JCP&L needs to comply with regulations and lower rates NOW!"
John from Denville:
"The BPU needs to complete this investigation and ensure reasonable rates for JCP&L customers"
"Literally thousands of comments such as these have been pouring in from every corner of the JCP&L coverage area," said Mollen. "It is, once and for all, time for the BPU to act on the ample evidence it has been provided with and settle this case, and offer desperately needed relief to JCP&L customers."



###



AARP is a nonprofit, nonpartisan organization, with a membership of more than 37 million, that helps people turn their goals and dreams into real possibilities, strengthens communities and fights for the issues that matter most to families such as healthcare, employment security and retirement planning. We advocate for consumers in the marketplace by selecting products and services of high quality and value to carry the AARP name as well as help our members obtain discounts on a wide range of products, travel, and services. A trusted source for lifestyle tips, news and educational information, AARP produces AARP The Magazine, the world's largest circulation magazine; AARP Bulletin; www.aarp.org ; AARP TV & Radio; AARP Books; and AARP VIVA, a bilingual news source. AARP does not endorse candidates for public office or make contributions to political campaigns or candidates. The AARP Foundation is an affiliated charity that provides security, protection, and empowerment to older persons in need with support from thousands of volunteers, donors, and sponsors. AARP has staffed offices in all 50 states, the District of Columbia, Puerto Rico, and the U.S. Virgin Islands. Learn more at www.aarp.org .