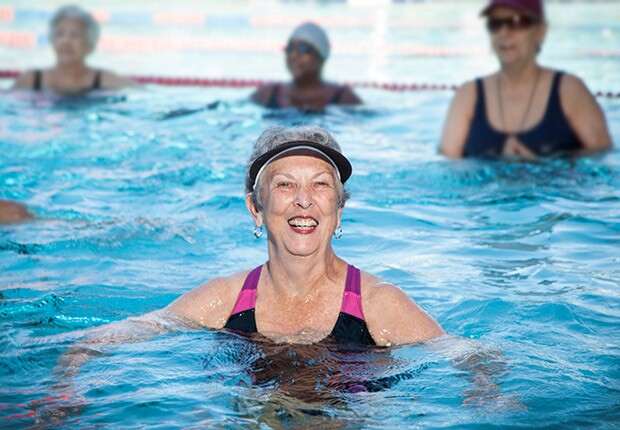 By Hollie Deese

When Zif Berry, a retired Texas school administrator, lost her husband 3½ years ago, she knew she needed a change. Suddenly, her days were quiet and her beloved home near Austin was just too much to handle alone.

"With all the maintenance and upkeep, it was not the right place for me anymore," she said.

With the assistance and approval of her family, she moved in with her daughter and grandchildren in Brentwood 15 months ago. "That is a pretty big move for someone in my age group, so I have basically reinvented my life," said Berry, who is in her 70s.

At the same time, the longtime AARP volunteer became part of a national team of eight who were trained in Washington, D.C., as guides for the Life Reimagined program. Launched by AARP in 2012, the program helps people navigate through times of transition, like retirement, death of a spouse or a new living situation.

Berry helped launch the program in Florida, Colorado and North Carolina and is now ready for Tennessee.

During the program, members go through a "Life Checkup" that puts the focus on where they have been in their lives, how they felt during certain milestones and where they hope to go in the coming years.

Berry went through the two-hour checkup before learning the tools to help guide others through life's transitions. She uses her own experiences to demonstrate that change is possible no matter one's age.

"If you are a new retiree or have been retired for a while—looking at a dead-end situation—and you are hoping you can find something worthwhile to do in the future, this program is geared to help you learn about yourself," Berry said. "It is about you ... not the other people in the room."

Help through transitions
Tara Shaver, interim communications director for AARP Tennessee, said members have always been looking for guidance through life's transitions, and Life Reimagined will bring them some tangible help.

"Our members who are facing what is traditionally known as a retirement phase are realizing they still have 20 to 25 years left of activity," Shaver said.

"Many are interested in launching a second career or doing something they have always been passionate about but never had the opportunity. Many times a change is brought on by kids leaving home, kids returning home, divorce, death, the end of a caregiving situation," she said. "With Life Reimagined, folks can do some self-guided activities and maybe even find their passion."

Through the program, members will have the opportunity to reflect on their lives, what influences were positive and negative, what their new focus is and how best to achieve it.

"Maybe it is making a phone call to someone you haven't seen in a long time," Berry said. "Maybe it is taking a class. There is a whole array of things out there."

Cecelia Schlagheck, 68, of Harmony, Tenn., who acts as the liaison between AARP and the National Retired Teachers Association, is glad the state is embracing the program because people are always seeking advice when life throws them a curveball.

"So many people are floundering, especially after retirement," she said. She herself has started organizing weddings at her church as a second act.

"If you get yourself out there in the community, you will find you are invested in other people's lives and what they like to do," she said. "Pretty soon you will find new interests you never thought you would be into."

Her husband Ron, 68, is retired from NASA and finds that people who have spent their entire lives committed to work are simply afraid to think about retirement and what comes next.

"I was never scared to retire because there are so many things I want to do in life and will probably only get to do a fraction of them," he said. "A life's journey is never over."

The program offers an opportunity to set goals for travel, education, a new career, family or hobbies.

"If you have been married for a long time and suddenly find yourself alone, it is a real challenge and takes a while to get the positive side revved up again," Berry said. "But it is well worth it. There is something after this."

To become a Life Reimagined volunteer, call 866-295-7274 toll-free and indicate your interest in volunteering, or email tnaarp@aarp.org or Shaver directly at tshaver@aarp.org with "Life Reimagined" in the subject line. For more about the program, go to lifereimagined.org and bit.ly/tnevents.
Hollie Deese is a writer living in Gallatin, TN.