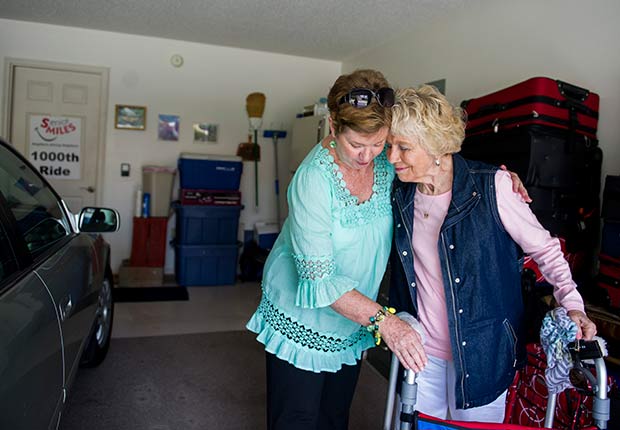 By Sheila Burke

When back problems sidelined Dorothy King, she found herself relying more and more on her daughter and neighbors for rides. But the 82-year-old Maryville widow, who stopped driving because of her health and "slow response time," found a transportation program that changed her life.

She was able to register with the low-cost Blount County Senior Miles (SMiles) program, which uses volunteer drivers. She gets rides to the hair salon, the grocery store and medical appointments.
Participants must be at least 60 and ambulatory (they can use a cane or walker).

"I use them maybe once a week," said King, who is known to her friends as Dot. "They have just been so good. They're prompt. They're right here when they say they're going to be, and they'll call me the night before to tell me which driver will be coming."

SMiles is one of several programs across the state that provide transportation options to older people.
The city of Clarksville, with the help of a grant from AARP, is giving free bus rides to older residents. And Walk/Bike Nashville is offering free classes on bicycle riding for adults of all skill levels.

With 10,000 people turning 65 every day in the United States, the need for alternatives to driving will grow, said Rebecca Kelly, AARP Tennessee state director.

"People want to maintain their independence as long as they can," Kelly said. "And for most, that means having and driving a car. Our theory is, we need anything that we can offer as an alternative that is safe, accessible and affordable. Anything other than dependency on driving is moving us in the right direction."

Another alternative, which began in July, is Clarksville Transit's free bus rides for people 65 and older. In the first month, older riders took 3,591 free trips, according to Arthur Bing, the city's director of transportation.

AARP Tennessee made a $7,500 grant to the city to provide the free rides for six months. It will provide another $7,500 grant for the first six months of 2016, said Tara Shaver, associate state director for community outreach at AARP.

"We just hope that seniors will get out and ride the buses in the city," said Arthur Bing, Clarksville's director of transportation.

The buses can accommodate walkers and wheelchairs, and most have ramps to help people with limited mobility, Bing said. Free training is offered for those unfamiliar with the bus system.

Trying out cycling
Biking is another option—even for those who had never taken to it.

At 63, AARP volunteer Myrna King decided she was finally ready to learn to ride a bicycle after hearing that Walk/Bike Nashville was offering free classes.

"They had this class, and I thought I was the only person in the whole wide world that didn't know how to ride a bike—and I was wrong," King said. The small class had people from their 20s to their 70s, she said.

In Blount County, Joani Shaver is fielding calls from officials around the country interested in setting up programs like SMiles to transport seniors. The rides are very helpful in a rural county with few options for public transportation, said Shaver, the director of the Blount County Office on Aging.

Older residents pay $25 a year to participate in the program and $6 per ride. Each trip can include two stops, she said. Volunteers must have auto insurance and go through four hours of training and a criminal background check. They are asked to provide one ride a month.

"Now some of them are giving four rides a week, and they love it," Shaver said. "It's so rewarding for both riders and drivers. Seniors are so appreciative."

To contact the SMiles program, call the Blount County Community Action Agency at 865-724-1331 or email jshaver@blountcaa.org.

For information on the Clarksville bus, call 931-553-2429.

Those interested in a bike-riding class can get more information at walkbikenashville.org or call 615-379-7252.

Sheila Burke is a writer living in Nashville.