TP or not TP by Dick Weinman, The Thin Edge of Dignity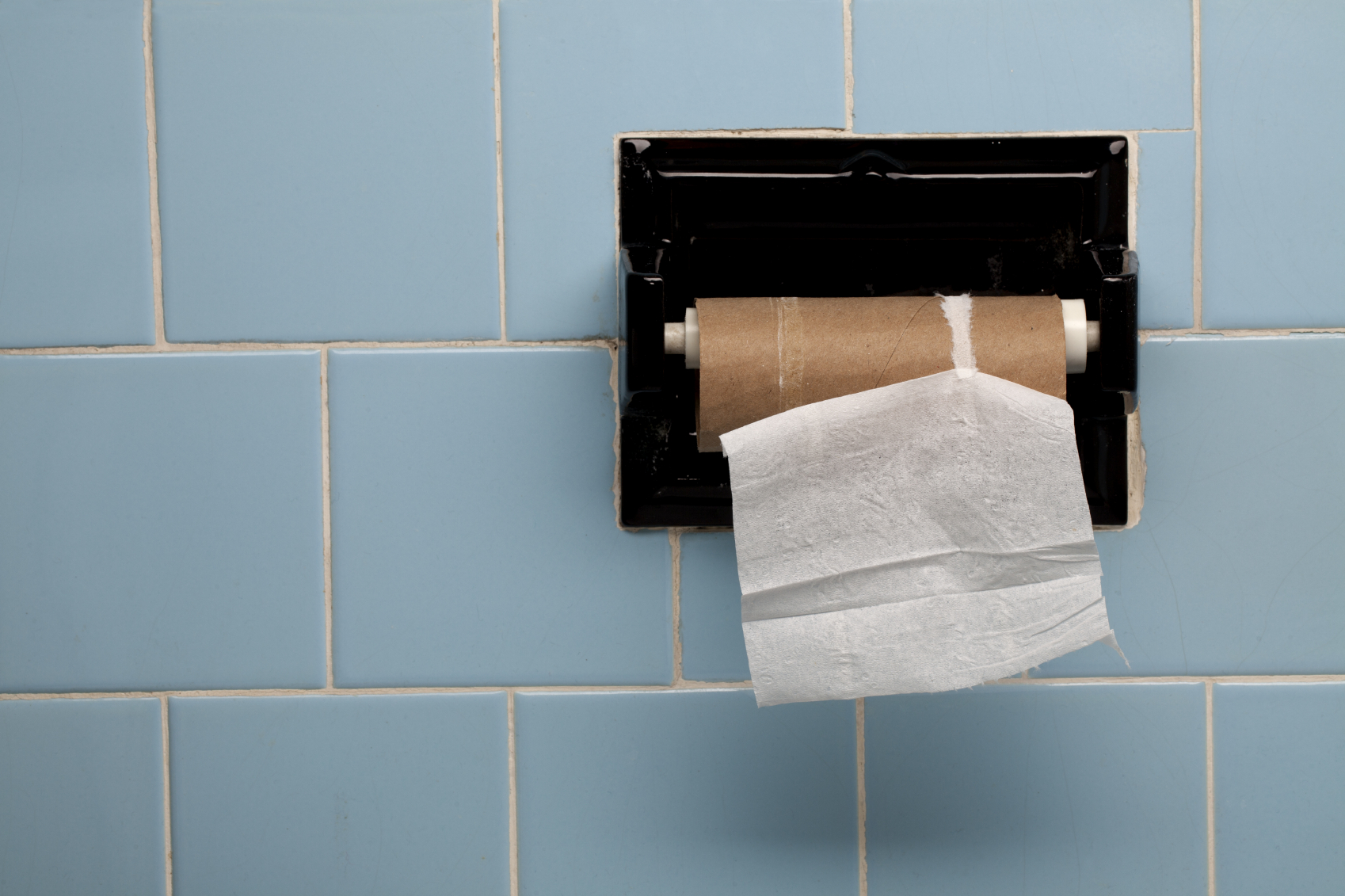 "They've taken away a third of our toilet paper allotment," I yelled in astonishment to my friend, as I waved the memo in front of his face.

He rolled his eyes, "You're kidding?"

"I couldn't believe what I read, but it came straight from the horse's mouth. I began to read: NAME WITHELD has agreed to provide a basic supply of toilet paper, 4 rolls per week maximum, and any resident who needs more than that needs to purchase the extra rolls him/herself."

I really shouldn't complain though: ashamedly, I confess, I "squeeze the Charmin" - and buy the twelve double-ply pack. But for those residents who choose to scrape their behinds with the house supplied sandpaper, I feel their pain. (To paraphrase a former president.)

It's not just TP that gets the short shrift in this cost cutting stratagem. All paper product's activities fall to the poverty line strictures - tear wiping, nostril tapping, and nose blowing tissues, join their rear-end species: Kleenex is the responsibility of the resident and not of NAME WITHHELD. Some residents have been asking staff to supply them with Kleenex as well as toilet paper. This will no longer continue to occur.

Those of us who are septuagenarians, octogenarians, and nonagenarians know our noses drip excessively and frequently. That's primarily because we're old, and afflicted with: Rhinitis. (Yes, there's such a word. ) Those of us sitting in the dining room need our table's box of tissues, or the eponymous, Kleenex , because we know that at our age, as scientists have written, we suffer from inflammation of the nasal mucosa and . . . rhinorrhea (yes, this, too, is a word) , itching of the nose, postnasal drip, and sneezing. "Pass the tissue box, please," is heard throughout the dining room.

Alack Alas. We've been told that Kleenex boxes will no longer be left on dining room tables.

What are we poor residents with rhinorrhea – yes, it's the facial equivalent of the bottom rrohea - to do: Anyone who needs Kleenex – come on, they're tissues, especially the quality we get – should put some in their pocket (sic) from their personal supply or bring a handkerchief. . . . Now there's a germ free solution!

But there's more to come – another house paper product eliminated. Nurses agree that it's unsafe for both resident and caregiver if a caregiver dries her hands with the resident's towel. Common sense says instead of using the resident's permanent cloth towel, she should use a temporary paper towel. But where are the paper towel dispensers installed? There's one in the dining room – good move to have the caregivers wash and dry their hands before serving food – and in the bathrooms. Wise placement.

What about my room, or other residents' rooms, after a caregiver wipes me following a BM, finishes showering a resident, strips the bed of an incontinent resident, or changes the trash bucket? My paper towels were taken out of my room. The implied message: buy your own.

I realize that to be a good citizen means to be an avid consumer. I am glad to contribute to the profits of Kleenex, Puffs, Charmin, Bounty, Viva, and all the zillions of brand names and store generic products. I'm equally glad to increase the wealth of Kimberly Clark, Georgia Pacific, Weyerhaeuser, International Paper, Procter and Gamble, Louisiana Pacific and the other few pulp and paper manufacturers.

But I also would like NAME WITHHELD to be a good citizen/consumer, and furnish us residents with the needed personal paper products.

Dick Weinman lives in an assisted living facility in Corvallis, Oregon.