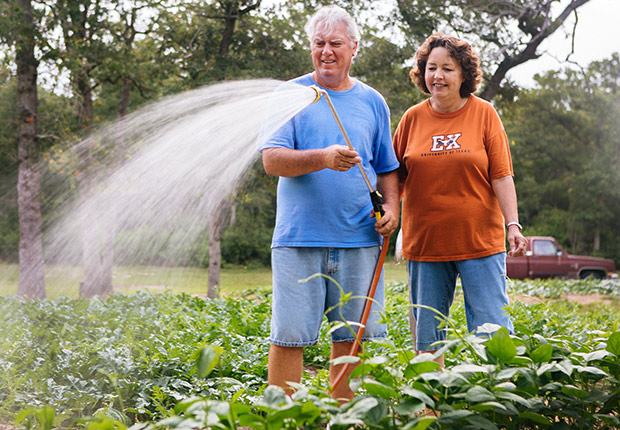 By Tracy Sutton Schorn

Farming 10 acres of organic watermelon is not how most people envision their retirement years, but it's ideal for Susan and Rick Fields.

"Why retire to sit home and watch television?" said Susan.

The couple, both 57, purchased a farm in Rosanky and just planted their first crop of melons. Susan, a retired elementary school principal, and Rick, a retired federal worker, thought farming seemed like a good fit after a lifetime of avid gardening.

"There's nothing I enjoy more than watching things grow. We're doing this to stay active and healthy," said Susan.

The couple is part of a growing number of people ages 50 to 64 transitioning to new "encore" careers—a different life stage than traditional retirement.

"Retirement doesn't have to mean not working; it can also be about the freedom to choose what type of work to do," said Tim Morstad, AARP Texas operations manager.

For some, this involves part-time paid work, volunteer work, a full-time job or starting a new business.

According to the U.S. Small Business Administration, 1 in 4 individuals ages 44 to 70 are interested in becoming an entrepreneur and 63 percent of Americans plan to do some form of work during retirement. More than 5 million people age 55 and older have their own businesses or are self-employed, the SBA says.

Whether people work during retirement by choice or for economic necessity, a career change at any age can be challenging. That's why AARP Texas is hosting a series of career transition expos to connect people with the resources they need.

Partnering with the SBA and human resource professionals, AARP Texas will host six employment workshops in the state, covering such topics as finding a mentor, self-employment, writing résumés and dressing for success. Check out aarp.org/tx to find a career event in your area. In addition, AARP has online job-hunting tools at aarp.org/work.

Would-be entrepreneurs
AARP Texas also helps experienced professionals put their existing career knowledge to use in new lines of work.

In April, AARP Texas and the SBA hosted Encore Entrepreneur Mentor Month, matching potential entrepreneurs over 50 with successful business owners and community leaders for advice and assistance.

Larry Herpel, 76, retired as an engineer from Lockheed in 1995, then went back to school to become a travel agent. He opened his storefront business in Lockhart in 2001.

Herpel credits careful research and financial planning for his success. "It helps to have some knowledge and training for what you want to do, instead of starting from scratch," he said.

To cover startup and first-year costs, Herpel advised, "have retirement income or Social Security. Know what your overhead is. Don't bet the farm."

Financing a new business may intimidate many would-be entrepreneurs, but AARP has resources to demystify the process.

As part of AARP's Financial Freedom campaign, AARP Texas will also be hosting workshops on business planning, financial services and shaping business ideas. Go to aarp.org/tx for local events. The SBA also has online resources available at sba.gov/content/50-entrepreneurs.

Despite the risks, Herpel said, he prefers running a business to a more sedentary retirement: "It's satisfying. I'm a people person, and this keeps my mind active."
Tracy Sutton Schorn is a writer living in Lockhart, Tex.