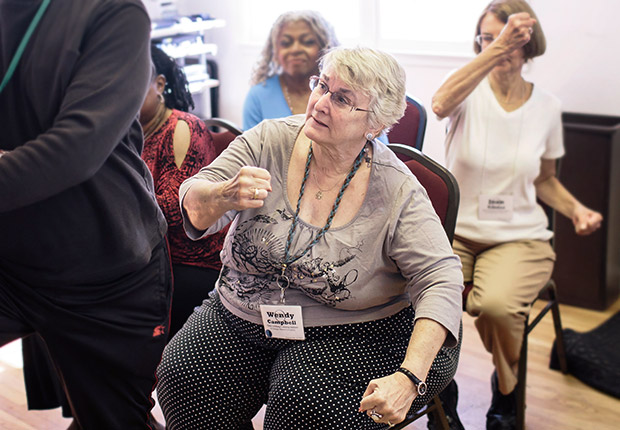 By Sue Lindsey

Retiring from her job teaching elementary school in Fairfax County in 2009, a year after her husband died, Wendy Campbell faced an uncertain future. That changed when she found an educational program, geared toward older adults, that has given her new energy.

Campbell, of Lorton, is among nearly 1,200 retirees and others who are finding mental stimulation, social contacts and a life purpose at the Osher Lifelong Learning Institute at George Mason University, according to its volunteer president, Glenn Kamber, 68, of Reston.

The institute, known as OLLI, offers classes year-round that range from current events to the arts to tai chi on its main campus near GMU in Fairfax, and in Reston and Sterling.

For a $375 annual fee, a member may participate in an unlimited number of classes and activities. Prospective members may visit two class sessions for free and sign up for one semester for $150.

There are no tests and no grades, Kamber said, and socializing over coffee and cookies is encouraged before and after the 85-minute daytime classes.

The institute also has clubs on topics from bridge to photography, as well as short programs. A behind-the-scenes tour of the U.S. Supreme Court, restricted to 50 people, is so popular that it's offered several times a year.

Campbell has discovered an enthusiasm for acting she hadn't known before. She not only takes drama classes, but has taught them in five years as an OLLI member.

"At 68, to be finding new passions and new interests is such a thrill," she said. "It would be so easy to sink into television and grand­children and knitting."
Many people who start taking classes go on to help plan courses and often teach them, Kamber said.

"We're really blessed with a lot of talented people here in this region—retired government, retired military, retired entrepreneurs," said Jennifer Disano, OLLI's executive director. GMU professors teach some classes.

Dave Ryan, 68, of Fairfax, said he felt adrift after he retired in 2010 from his media relations job with the U.S. Environmental Protection Agency.

But Ryan became OLLI's outreach director after he joined in 2011. In that capacity, he helped to bring about a stronger partnership with AARP Virginia.

More AARP courses
Ryan met Bob Sargeant, 72, an AARP community ambassador in Fairfax, at a conference on senior services. They discussed ways to collaborate, Sargeant said, which led to a meeting involving representatives from both organizations.

As a result, AARP will offer more classes at the institute, and OLLI hopes to attract AARP members to its classes, Sargeant said. AARP representatives have given sessions on driver safety, tax preparation and the Affordable Care Act, Disano said. The driving course was offered this fall.

During the upcoming four-week winter term, beginning Jan. 20, AARP volunteer Pat Killeen, 67, plans to teach a course he said will analyze financial and health care security for older people.

Adding AARP courses to the mostly academic offerings will be a plus, Kamber said.

"It makes for a much more enriching experience for people," he said. "When you get AARP courses to help seniors, which I've mostly seen are practical, that's a real benefit for us to have."

The institute, begun 23 years ago, is affiliated with the Bernard Osher Foundation, and there are 119 OLLIs nationwide. Go to olli.gmu.edu for more information.

There are three other Osher programs in Virginia: at Hampton University ( universitycollege.hamptonu.edu/olli), the University of Richmond ( spcs.richmond.edu/osher) and the University of Virginia ( pages.shanti.virginia.edu/olliuva). Each has different course offerings and fee structures.

Sue Lindsey is a writer living in Roanoke.