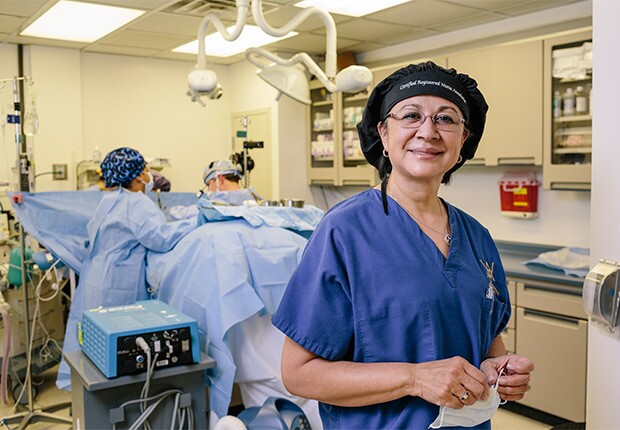 By Tamara Lytle

When nurse anesthetist and Air Force Reserve Col. Jan Setnor served as a sole provider at a forward operating base in Afghanistan, no doctor was looking over her shoulder as she cared for patients.

But back home in Reston in civilian practice, "all of a sudden, I'm supervised again," she said.

Setnor and other advanced practice registered nurses (APRNs) have master's degrees and are trained to work without a physician's supervision. They are working to educate state policymakers about the role of APRNs so as to eventually be allowed to practice to the full extent of their education and training without the need for a doctor's oversight.

Advocates for the idea, including AARP Virginia and the Virginia Association of Nurse Anesthetists, which Setnor leads, argue that removing unnecessary barriers would save health care costs and increase access to medical help, especially in rural areas, where access to primary care physicians is sparse.

APRNs include certified registered nurse anesthetists (CRNAs), like Setnor, nurse practitioners and nurse midwives. Nationally, clinical nurse specialists are considered advanced practice nurses, but Virginia law does not include them.

All four groups have advanced training. There are about 8,500 APRNs in Virginia; the largest group, nurse practitioners, can prescribe medication, perform annual exams, and diagnose and treat illnesses.

House calls
"It's been one of our top legislative wishes for the past five years, and that will continue," said David DeBiasi, AARP Virginia advocacy director. "APRNs are important to the health of Virginians. They currently aren't able to practice to the full extent of their education."

Permitting them to practice without an agreement with a doctor would help ease a predicted shortfall of primary care providers, allow patients to be treated in their own homes (since some APRNs make house calls) and give patients more choice, DeBiasi said.

It's especially important in rural areas. "It would help ensure that more folks who live in those areas get care," Setnor said.

And it's high-quality care—advanced practice nurses are trained and overseen well, she said. Nurse anesthetists, nurse practitioners and nurse midwives, for instance, are licensed by the state Board of Medicine and the state Board of Nursing.

CRNAs take continuing education courses each year and perform hundreds of cases before they graduate. Setnor, who works at a cosmetic surgery center, has a master's degree in nursing.

Under current law, APRNs must have a practice agreement with a physician who is responsible for overseeing their work.

Before 2012, state law required that nurse practitioners be supervised by a physician at the same site. Now it can be done remotely. AARP and a coalition of nursing groups are hoping that barriers to practice will be incrementally eliminated.

Doctors oppose that change, arguing they have more training, including two to five years of residency.

"If you look at the hours physicians put into training versus advanced practice nurses, there's a significant difference," said Michael Jurgensen, senior vice president for health policy at the Medical Society of Virginia.

"We acknowledge their training is getting better, their skills are getting better," he said, adding that it is preferable to have advanced practice nurses work within a team led by a doctor.

The Virginia effort is part of a national AARP push to have legislatures drop barriers for nurses to practice.

The idea is especially important to older Americans, both as patients and as caregivers, DeBiasi said.

"Fifty and up is a time of life when many chronic diseases begin to show, and nurse practitioners are a big part of managing chronic conditions," he said. They also "are more likely to help older people receive care at home, which is a big help to family caregivers."

Tamara Lytle is a freelance writer in Vienna, Va.