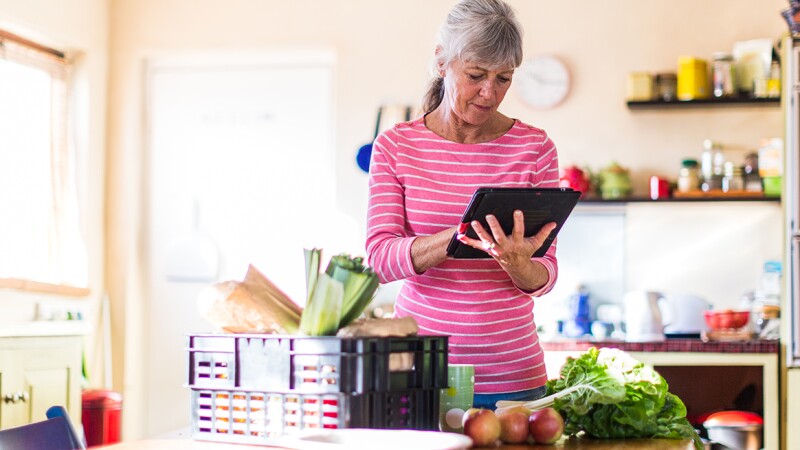 Español | In the face of the coronavirus pandemic, AARP in The Virgin Islands is providing information and resources to help older Virgin Islanders and those caring for them protect themselves from the virus and help prevent it from spreading to others.

The Governor of the Virgin Islands Albert Bryan Jr. announced new guidelines for the State of Emergency. The new guidelines follow the Yellow "Safer at Home" phase of response to the COVID-19 pandemic effective September 8, 2020 since it's reactivation to Orange - Stay at Home effective August 13th, which now expires.

In this phase, the prohibitions on leisure travel will be allowed to expire once more effective September 19th, making it easier for potential tourists to book vacations to the Territory. Virgin Islanders must continue to exercise the use of masks and practice physical distancing.

Below are the new guidelines:

A Yellow "Safer at Home" is in effect beginning September 8 , 2020.
The travel policy has changed as follows:


Every person who enters the Territory of the U.S. Virgin Islands shall be subject to mandatory self-quarantine for a period of 14 days, consistent with the USVI Department of Health regulations for quarantine, from the time of entry into the Territory or the duration of the person's presence in the Territory, whichever is shorter, unless the person presents a COVID-19 negative test result obtained within five (5) days of commencement of travel to the U.S. Virgin Islands. The requirement to self-quarantine for a period of 14 days may be reduced by the person obtaining a COVID-19 negative test result after arrival in the Territory.
See more information and updates on the travel policy at the VI Port Authority website: http://www.viport.com/
Heat Sensors were installed to measure fever temperature at airports. All visitors and individuals traveling to the territory are encouraged to report symptoms of the virus to the VI Department of Health as soon as symptoms are felt.

Non-essential businesses continue operations with restrictions


All individuals patronizing commercial establishments required to wear a facial covering/mask. No mask, No service. The only exception is children under the age of 2 years and those with acute respiratory issues. Facial coverings = homemade masks or other coverings tied over the face.
Facial coverings/masks are required for any gatherings of people.
No more than 10 persons in any business (exempt are grocery stores)

Retailers are open. No more than 10 persons allowed in at any one time (exempt are grocery and big box stores); Facial coverings/masks must be worn by all at all times. No mask, No service.
Bars remain closed for sit in service and can only serve patrons for pick up of drinks and/or food if they have a restaurant. They must also close by 11 pm. Restaurants remain open and must follow certain guidelines. The following restrictions remain in place:


Employees are required to wear facial coverings at all times. While patrons are not required to wear the masks at the restaurants and bars, it is strongly recommended.
Establishments must provide sanitization stations for customers and employees.
Restaurants can only operate at half of Fire Marshal-approved seating capacity, or host a maximum of 50 customers. That is 50 percent of what the Fire Marshal regulations state or 50 customers — whichever one is less.
Tables must be placed at least six feet apart.
Establishments cannot cater to parties larger than six people. Larger groups can be split up among multiple tables that are properly spaced apart.
Bar stools must be spaced out as much as possible. Restaurants with bars may continue to serve to-go beverages.

Private offices are allowed to open but are encouraged to continue allowing those who are able to work remotely from home.
Gyms, tennis courts, golf courses are allowed to open as long as they are able to follow physical distancing limits (6 feet).
Contact sports are strictly prohibited (basketball, football, etc)
Barbers, hair salons, massage therapists, nail salons, spas, etc are permitted to operate by appointment only. They must follow strict sanitation protocols including requiring customers to use hand-sanitizer upon entering and they must wear facial coverings/masks for the entire visit (as possible, it may be removed briefly for access to the face if needed and then returned). No more than 10 people, including employees are allowed in the establishment at any time. 6 feet spacing guidelines are required. Refer to the Department of Health for further details.
Churches are allowed to open with restrictions. No more than 50 people allowed in at any time, including pastors, parishioners, etc. Facial coverings must be worn by all at all times. No distribution of communion, wine, etc.
Visits to nursing homes remain prohibited.
Childcare centers remain closed. Schools remain closed.
Hotels, guest houses, villas, bed and breakfasts, shared economy hospitality bookings, AirBnBs, any temporary vacation housing, charter vessels or any similar business known by any other terminology, can accept, receive, check-in or register new guests as of September 8th. Leisure travel to the territory will resume on September 19th.
Beaches are open until 4 p.m. on weekdays and weekends until further notice. No parties, No BBQs, No Camping. No alcohol. No groups over 10.
Loitering restrictions remain in place and will be enforced.
Gaming centers and casinos can re-open with same restrictions to be followed by other businesses.
Virgin Islands COVID-19 Response Phases

Red = Total Quarantine
Orange = Stay at Home (order through May 3, 2020)
Yellow = Safer at Home (effective May 4, 2020)
Blue = Open Doors (anticipated June 1, 2020)
Green = New Normal (no documented cases of COVID-19 in the Territory)
If you have coronavirus symptoms, call your health care provider or local public health department to figure out if you could — and should — get tested. Signs of the virus are a dry cough, fever and shortness of breath. (Read more about coronavirus and how to stay safe.)

Coronavirus - COVID-19 Testing Locations:

VI Department of Health – www.doh.vi.gov
St. Croix Hotline: 340-712-6299. Available 24 hours a day, 7 days a week.
St. Thomas Hotline: 340-776-1519. Available 24 hours a day, 7 days a week.
If one line is busy, regardless of which island you live or are calling from, call the other island's number.

State and Local Health:
The VI Department of Health offers updates on those infected, plus tips for prevention, public resources and contact information.

St. Croix: (340) 718-1311
St. Thomas: (340) 774-9000
Territory wide: Text COVID19USVI to 888777
Updates on Status of Territory on Coronavirus – COVID 19
VI Government House Press Conferences: Facebook.com/GovernmentHouseUSVI

Sign Up for Alert VI: Alert VI is an an emergency mass notification service free to residents. This service allows you to opt-in to receive notifications via phone calls, text messaging, e-mail and more based on locations you care about. You can choose to receive notifications about events that may affect your home, workplace, family's schools and more. Register here: https://member.everbridge.net/892807736729008/login

Sign up for the Disaster Registry. If you are 60 years of age or older and living alone or disabled (regardless of age) and living alone in the Virgin Islands enter your name into the Disaster Registry. Once you do, you will be contacted to determine if you need emergency assistance during a natural or man-made disaster. To register call (340) 773-6630 in St. Croix, (340) 715-6935 in St. Thomas and (340) 776-6334 in St. John or visit www.dhs.gov.vi

Emergencies:
For emergencies call 911

Hospitals:

Governor Juan F. Luis Hospital and Medical Center St. Croix: (340) 778-6311
Roy L. Schneider Regional Medical Center St. Thomas: (340) 776-8311

Social Security Administration:

Medicare:
The Virgin Islands State Health Insurance Assistance Program (VI SHIP)

St. Thomas/St. John: (340) 774-7166 ext. 4505 or 4507
St. Croix: (340) 778-6311 ext. 3110 or 7396
VI MAP Program - Medicaid:
EDI Help Desk: 1 (855) 248-7536

Medicaid Call Center: (340) 715-6929

Special Services Support:

St. Thomas/St. John District: (340) 774-0930
St. Croix District: (340) 772-7100

Food Assistance:

If financial difficulty is a barrier to food, find your closest food bank and other food assistance programs in your area.

For meals for seniors - Meals on Wheels Program contact:

St. Croix : (340) 642-6289, (340) 772-7100 ext. 7900 *please call between the hours of 8 am to 10 am
St. Thomas: (340) 774-0930 ext. 4249 or 4236
St. John: (340) 693-8580

Other Food Assistance:

The VI Department of Human Services Division of Family Assistance Supplemental Nutrition Assistance Program (SNAP), formerly known as Food Stamps, cash and energy assistance programs

New Clients:

Call (Monday through Friday between 8 a.m. and 2 p.m.) the Division of Family Assistance offices for information on how to apply:

St. Croix: 340-772-7100
St. Thomas-St. John: 340-774-2399 or 340-774-0930
Applications for the programs are also found on the DHS website: www.dhs.gov.vi.

School Lunches: The V.I. Department of Education is distributing breakfast and lunch to students attending V.I. public, private and parochial schools in its "No V.I. Child Goes Hungry" feeding initiative, beginning Thursday, March 26. Meals will be distributed at designated locations in both school districts Monday to Friday only. Parents and students should visit the distribution site closest to their homes.

Beginning Monday, April 6th, the V.I. Department of Education will consolidate breakfast and lunch distributions to a once-daily distribution from 9:30 a.m. to 11:30 a.m.

Both meals can be picked up at the designated locations during those hours.

St. Croix District Pick Up
9:30 a.m. – 11:30 a.m.

Distribution Sites:

Claude O. Markoe Elementary School
Eulalie R. Rivera K-8 School
John H. Woodson Junior High School
Juanita Gardine K-8 School
Lew Muckle Elementary School
Pearl B. Larsen PreK-8 School
St. Croix Educational Complex High School
St. Thomas/St. John District Pick Up
9:30 a.m. – 11:30 a.m.

Distribution Sites:

Alvin McBean Ballpark
Anna's Retreat Community Center
Bordeaux Basketball Court
Contant Knolls Community Center
Estate Bovoni Community Center
Julius E. Sprauve School
Michael Kirwan Terrance Community Center
Oswald E. Harris Court Community Center
Paul M. Pearson Garden Community Center
Savan Basketball Court
Smith Bay Ballpark
Tutu Valley Basketball Court
Ulla F. Muller Elementary School (front entrance)
Winston Raymo Recreational Center

Grocery Stores to know about:

St. Croix
Plaza Extra East and West on St. Croix are open Mondays from 7 a.m. to 10 a.m. for seniors and older adults. Shoppers age 60 and up can shop at both locations weekly on that day and time before the stores are open to the general public.

St. Thomas
Plaza Extra in St. Thomas (Tutu), have scheduled hours on Mondays from 7 am – 10 am for shoppers age 60 years and older.

Food Delivery Services:

Island Direct is a membership only service to order food for delivery and pickup from restaurants and pick up and delivery of groceries:


Unemployment Benefits:
US Virgin Islands Department of Labor – www.vidol.gov

Contact Phone Numbers
St. Thomas
Tel: (340) 776-3700
Fax: (340) 715-5743

St. Croix
Tel: (340) 773-1994
Fax: (340) 713-3415


Caregiving Assistance:

VI Department of Human Services Family Caregivers Assistance Program:

Website: dhs.gov.vi

Contact Phone Numbers
St. Croix: (340) 773-2323 ext. 2024 or 340-642-6289
St. Thomas/St. John: (340) 774-0930, Ext. 4120, 4168 or 4383


AARP Family Caregiving: www.aarp.org/caregivers


Fraud:

US Attorney's Office District of the US Virgin Islands
www.justice.gov/usao-vi/citizen-complaints

AARP Fraud Watch Network – www.aarp.org/fraudwatchnetwork

AARP Fraud Watch Network Helpline: 1-877-908-3360


Isolation:
AARP Community Connections – www.aarpcommunityconnections.org


Spanish Language Information and Updates:
Entre el Pueblo - www.facebook.com/entreelpueblo


Small Business:

The U.S. Small Business Administration is offering low-interest federal disaster loans for working capital to U.S. Virgin Islands small businesses suffering substantial economic injury.

Applicants may apply online, receive additional disaster assistance information and download applications at https://disasterloan.sba.gov/ela.

Applicants may also call SBA's Customer Service Center at (800) 659-2955 or email disastercustomerservice@sba.gov for more information on SBA disaster assistance.

Individuals who are deaf or hard‑of‑hearing may call (800) 877-8339.

Completed applications should be mailed to U.S. Small Business Administration, Processing and Disbursement Center, 14925 Kingsport Road, Fort Worth, TX 76155.

The deadline to apply for an Economic Injury Disaster Loan is Dec. 21, 2020.

For more information about available SBA resources and services, please visit: SBA.gov/coronavirus


Coronavirus Stimulus Package Payments:

Looking for information on stimulus payment checks? As soon as it becomes available, #IRS will share it on www.irs.gov/coronavirus

More on Coronavirus


AARP Member Benefits Guide
Download PDF of Benefits

Discounts at local companies and for services - You must sign up to take advantage of discounts. Membership is FREE to AARP Members - Save on Islands: saveonislandssavings.com

Home Owners and Automobile Product for AARP VI Members:
Puerto Rico Office: 1-800-433-0881
St. Thomas Office in Nisky Center: 340-777-7703

AARP in The Virgin Islands
www.aarp.org/vi
Email: viaarp@aarp.org
or 1-866-389-5633
About AARP Virgin Islands