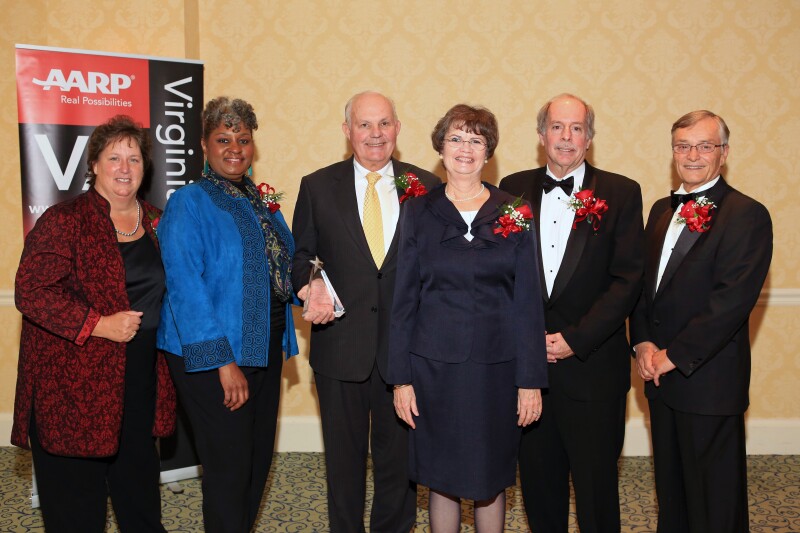 STAUNTON _ AARP Virginia has selected Neil P. Walsh to receive the 2014 AARP Virginia Andrus Award for Community Service -- the association's most prestigious and visible state volunteer award for community service. The organization honored several individuals, organizations and AARP chapters for volunteer work at its annual awards ceremony on Nov. 12.

Walsh, of Norfolk, is a legislative advocate with AARP Virginia and has been the spokesperson for the reform of payday lending practices in the State of Virginia.

"Neil is a tireless legislative advocate for people age 50 and better," said former AARP Virginia state president Warren Stewart of Norfolk, who nominated Walsh for the award along with former Andrus Award winner Lorraine Bratton of Roanoke. Stewart presented Walsh with the award at the Nov. 12 banquet in Staunton.

He is passionate about the issue of predatory lending and is a long-time active member of the Virginia Partnership to Encourage Responsible Lending, working to end predatory lending practices such as payday and car-title lending. Thanks to Walsh's efforts, Virginia achieved a significant legislative victory in 2008, leading to an 80 percent decrease in payday lending in the Virginia. He has also been a lead advocate for Medicaid expansion in Virginia on behalf of AARP and the Virginia Catholic Conference, where he serves on the board of directors.

A retired Navy veteran, Walsh became a full-time social justice advocate and activist in 2002. Through his participation with the Haiti Commission and the Diocese of Richmond Justice and Peace Commission and the Fonkoze USA Board of Directors, he became deeply involved in a parish-to-parish relationship in Haiti and has visited Haiti many times, going on parish pilgrimages twice per year since 2007. The efforts there included the building of a school with an infirmary and providing clean drinking water. He has been the director of social ministry at Sacred Heart Church in Norfolk for more than 10 years. He heads up the parish's outreach to the homeless, the unemployed and others who need assistance.

The Andrus Award was presented to Walsh at the All-Volunteer Assembly Recognition Awards Banquet in Staunton on November 12, 2014.

"This award acts as a symbol to the public that we can all work together for positive social change," said Bob Blancato, AARP Virginia State President. "AARP has long valued the spirit of volunteerism and the important contributions volunteers make to their communities, neighbors, and the programs they serve."

Andrus Award recipients across the nation were chosen for their ability to enhance the lives of AARP members and prospective members, improve the community for which the work was performed, and inspire others to volunteer.

AARP Virginia recognized volunteers and organizations with the following awards at the banquet:

Elvira B. Shaw Advocacy Award: in memory of Elvira Beville Shaw's outstanding service as an advocate for over 40 years on behalf of AARP Virginia, the annual recipient of this award may be an individual or a team who has demonstrated dedication to AARP's legislative priorities, effectiveness in advocacy outcomes, and exceeded the call of duty in their willingness to serve. The 2014 recipient is Jane King of Alexandria, an effective advocate and strong leader in many of her volunteer roles. She currently serves on the AARP Virginia State and Federal Advocacy Teams. She is co-chair of the Northern Virginia Aging Network's (NVAN) Legislative Committee, and vice chair of At Home in Alexandria. For six years, she served as chair of the City Alexandria's Commission on Aging. Fellow advocates and colleagues describe Jane as "brilliant, patient, articulate, kind, committed, positively persistent, diplomatic, and pragmatic."

Gordon Morton Award : an individual AARP volunteer who has made outstanding contributions to the work of AARP in a manner consistent with the dedication and quality of work modeled by Gordon Morton, an AARP volunteer who passed away in 2002. Beverly Crowder of Danville is the 2014 recipient. This year, Crowder exhibited at four annual church conventions on behalf of AARP. She single-handedly leveraged these new opportunities for AARP Virginia and was able to promote the AARP Community Food Drive and Financial Freedom workshops to over 300 African American pastors and church leaders. Crowder also took the lead in supporting the media relations efforts to market other AARP Virginia events to the Danville Free Press, gospel radio stations in the area as well as a personalized mailing to all pastors and pastor's wives.

The President's Awards for Community Service: Presented by AARP Virginia State President Bob Blancato, The President's Awards for Community Service are given to deserving individuals or groups chosen at the AARP State President's discretion. This year's winners are: Steve Scheibe of Fredericksburg, Virgil Cook of Blacksburg, and Larry Symonds of Lynchburg .

Community Partner of the Year Award: recognizes an organization or agency that has made outstanding contributions to the work of AARP by collaborating with AARP volunteers and staff to enhance the quality of life for members of the community. The 2014 award recipient is Senior Services of Alexandria, operating programs that provide safe and reliable low-cost transportation for seniors, as well as the mentally and physically impaired; nutritional meals to any homebound senior who faces food insecurity; services to improve at-home quality of living and financial stability; free educational events; as well as a point of contact knowledgeable of the full range of businesses, government services, and independent programs for seniors in Alexandria.

Chapter Awards: Recognizes chapter members that demonstrate effective advocacy, outreach and leadership, have followed AARP guidelines in developing strong chapter organization and have advanced the mission and purpose of AARP programs that reach out to the broader community. Awards were presented to the following chapters: AARP Blacksburg Chapter #2613 for education and advocacy; AARP Richmond North Chapter #5356 and AARP Dulles Chapter #4681 for service; and, honorable mention went to both AARP Twin Lakes Chapter #4014 and AARP Princess Anne Chapter #5119 for service projects.



ABOUT AARP

AARP is a nonprofit, nonpartisan organization, with a membership of more than 37 million, that helps people turn their goals and dreams into real possibilities, strengthens communities and fights for the issues that matter most to families such as healthcare, employment and income security, retirement planning, affordable utilities and protection from financial abuse. We advocate for individuals in the marketplace by selecting products and services of high quality and value to carry the AARP name as well as help our members obtain discounts on a wide range of products, travel, and services. A trusted source for lifestyle tips, news and educational information, AARP produces AARP The Magazine, the world's largest circulation magazine; AARP Bulletin; www.aarp.org ; AARP TV & Radio; AARP Books; and AARP en Español, a bilingual news source. AARP does not endorse candidates for public office or make contributions to political campaigns or candidates. The AARP Foundation is an affiliated charity that provides security, protection, and empowerment to older persons in need with support from thousands of volunteers, donors, and sponsors. AARP has staffed offices in all 50 states, the District of Columbia, Puerto Rico, and the U.S. Virgin Islands. Learn more at www.aarp.org .