En Espanol | Virginia lawmakers have adopted a package of laws that make it safer and easier for Virginians to cast their ballots during the coronavirus pandemic:

Election Day is Tuesday, Nov. 3, and polls will be open from 6 a.m. to 7 p.m. Virginia's voter information portal has more information about where to cast your ballot. Your polling place may be different this year, so check before you leave.
Be prepared for potentially long lines, and remember to take your mask and to follow social distancing measures at the polls.
With Election Day only days away, consider dropping off your completed absentee ballot in person. The Virginia Department of Elections has more information about where to take your ballot.
Election Day is now a state holiday, and many state employees have off.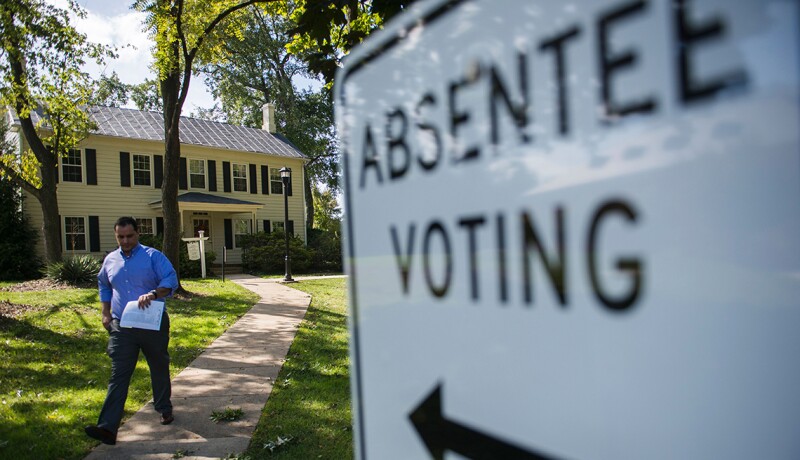 Here's what else you need to know:

How do I register to vote?

You can easily register online. And in-person options abound: at your local voter registration office, at public libraries and various government offices, including the Department of Motor Vehicles (DMV), during normal business hours. The state Department of Elections website lists more locations where you can register. The deadline for registering in time to vote on Election Day is Oct. 13.

How can I get an absentee ballot? Are there important deadlines?

You can request an absentee ballot in person at your local registrar of voters, or by printing and mailing the Department of Elections' application. In past years, voters needed an excuse to cast an absentee ballot, like illness or travel. But the new state voter laws allow anyone to vote absentee, no excuse necessary. You can also request a ballot online using the state's voter registration portal.

Keep in mind that absentee ballots won't be mailed until 45 days before the election, though you can submit your request before that. The deadlines for requesting an absentee ballot are Oct. 23 for mail requests and Oct. 31 in person. Ballots must be postmarked by Nov. 3 and received by noon on Nov. 6. State officials are waiving a witness signature requirement for absentee ballots this year. You can track your ballot using the state's voter portal.

When is Election Day? When are polls open?

Tuesday, Nov. 3. Polls are open from 6 a.m. to 7 p.m.

Can I vote before Election Day?

Yes, either by mail-in ballot or by early voting in person. Early in-person voting begins Sept. 18. You can vote at your local registrar's office or at a satellite voting location. Hours vary by location. State officials are also placing drop boxes at election offices this year, allowing voters to drop off their absentee ballots in person.

What form of identification do I need to vote?

A photo ID is no longer required, but you'll still need some form of identification or documentation at the polls. Options now include voter registration documents, utility bills and bank statements. Here's a full list of acceptable forms of identification.

What is being done to make polling places safe from the coronavirus?

The federal and state governments have authorized millions of dollars to safeguard voting during the pandemic, which local election officials are using to buy masks, gloves, and sanitizer for poll workers, along with disinfectants to clean voting machines. In May, Virginia Gov. Ralph Northam ordered everyone over age 10 to wear masks in indoor public places, in addition to practicing social distancing.

Will I be able to vote in the same place I always have?

Yes, in most cases. City and county election officials may need to combine or move some locations, so it's best to check with them before heading to the polls, or check the Department of Elections' citizen portal.

What are the key races in the state?

U.S. President
U.S. Senate: Incumbent Mark Warner (D) vs. Daniel Gade (R)
U.S. House: All 11 seats
This story was updated on Nov. 2 with more information about voting in person. Voting rules and procedures may change before Election Day. We'll update this story if they do, so bookmark this page and check back.

UPDATES since original publication:


AARP is urging older Americans to ask the candidates 5 key questions:

Just over half of all older Social Security beneficiaries rely on the program for at least 50 percent of their income. If elected, how will you ensure that current and future Social Security benefits are not cut as part of deficit reduction?
Half of the people with traditional Medicare spend at least a sixth of their income on health care. If elected, how will you protect Medicare from benefit cuts, as well as lower health care costs and ensure seniors continue receiving the affordable health care they have earned?
COVID-19 has caused death and suffering for too many older Americans who require long-term care. If elected, how will you make sure seniors can access safe and affordable long-term care at home, as well as in facilities like nursing homes and assisted living?
Also of Interest