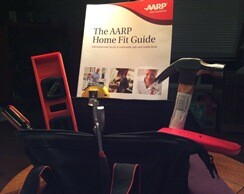 Modifying Your Home to Fit Your Changing Life Style

Small changes in your home can make a big difference. They can enable you to thrive as your living situation changes and make life easier for visitors to your home—from grandchildren to adult children and friends. Attend this free workshop to find out how simple changes to your home can create an environment where everyone is welcome, and everyone can flourish.



Wednesday, March 11, 2015
9:30 a.m. – 12:00 noon
Westminster Presbyterian Church
2701 Cameron Mills Rd, Alexandria, VA 22302
You will get comprehensive advice, tips, and checklists from a panel of experts on modifying your home for comfort, safety and long-term livability and you'll hear from experts on how to fund your modification (including tax incentives).

RSVP is kindly requested.

Light refreshments will be served. No products or services will be sold or promoted.

AARP is teaming up with Senior Services of Alexandria, the Alexandria Commission on Aging, and At Home in Alexandria to bring this free workshop to our community.