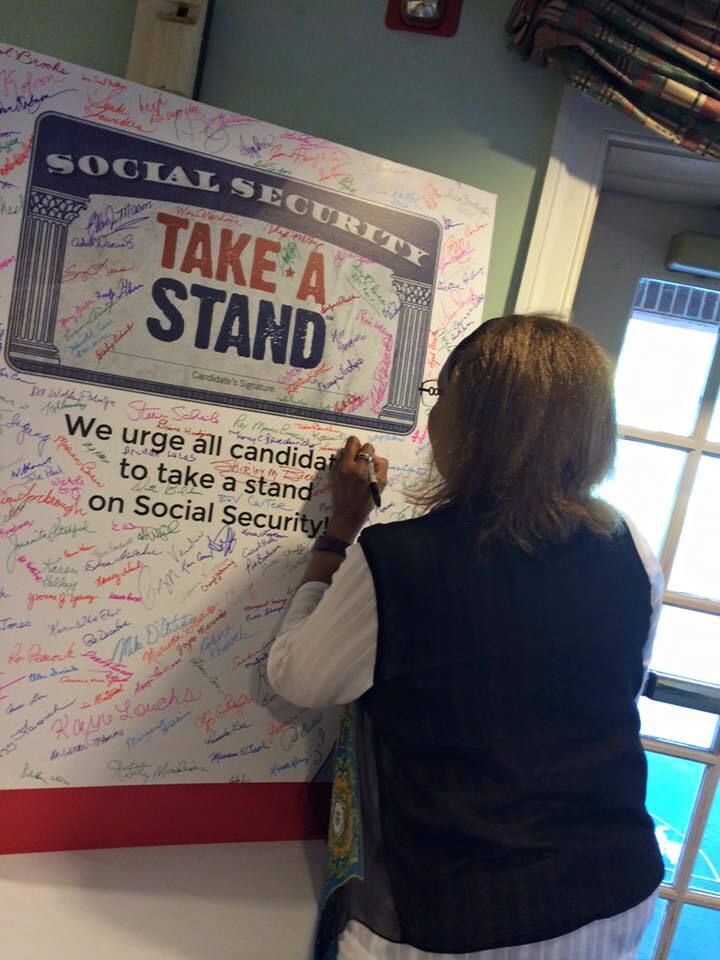 AARP, local elected officials will kick off Social Security event
SPRINGFIELD, Va. – As Social Security readies to become 81 years old, AARP volunteers and local legislators will gather at 10:30 a.m. Wednesday, July 6 to celebrate the opening of the Virginia ' Take a Stand' campaign headquarters. The campaign is an effort to make the program, which provides vital income to more than 1.4 million Virginians, stronger for future generations.
AARP Virginia State Director Jim Dau, Delegate Dave Albo (R-42 nd) and Delegate Eileen Filler-Corn (D-41 st), will make brief remarks at the ribbon-cutting birthday celebration.
' Take a Stand' is AARP's 2016 election accountability campaign. It demands on behalf of all voters that presidential candidates take a stand on their plans to update Social Security. Dau said AARP is leading the charge for action on Social Security because Virginians can't afford for their benefits to be cut.
"Unless the President and Congress can work together to update Social Security, all benefits will be cut by 25% -- up to $10,000 dollars per year – by 2034," Dau said. "AARP Virginia and our more than million members here in the Commonwealth think doing nothing is not an option."
Participants will serve cake to celebrate Social Security's birthday at the new office located at 6121 Backlick Road, Springfield, VA 22150.
The ' Take a Stand' effort holds candidates accountable for laying out their Social Security plans as AARP informs voters of all candidate plans through advertising, social media, grassroots outreach and publications. At the new campaign headquarters, AARP Virginia volunteers will make calls to discuss with voters the need to update Social Security and encourage candidates to take a position on keeping this important program solvent for future generations.
The Social Security Act was signed into law by President Franklin D. Roosevelt on August 14, 1935.
The nonpartisan AARP has more than 1 million members in Virginia and does not support or oppose any political candidates, nor contribute any money to political action committees, campaigns or super PACs. AARP has more than 1 million members in Virginia. Learn more about AARP Virginia and Take a Stand at the AARP Virginia website, on Facebook and Twitter, where we tweet as @AARPVa.
AARP is a nonprofit, nonpartisan organization, with a membership of nearly 38 million that helps people turn their goals and dreams into 'Real Possibilities' by changing the way America defines aging. With staffed offices in all 50 states, the District of Columbia, Puerto Rico, and the U.S. Virgin Islands, AARP works to strengthen communities and promote the issues that matter most to families such as healthcare security, financial security and personal fulfillment. AARP also advocates for individuals in the marketplace by selecting products and services of high quality and value to carry the AARP name. As a trusted source for news and information, AARP produces the world's largest circulation magazine, AARP The Magazine and AARP Bulletin. AARP does not endorse candidates for public office or make contributions to political campaigns or candidates. To learn more, visit www.aarp.org or follow @aarp and our CEO @JoAnn_Jenkins on Twitter.