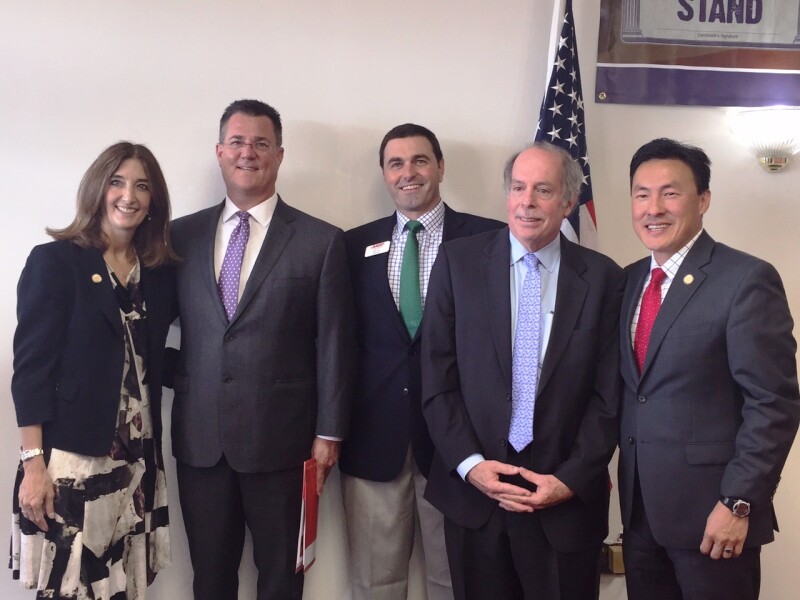 AARP and local elected officials celebrate Social Security at bipartisan event



SPRINGFIELD, Va. – When President Franklin Roosevelt signed Social Security into law in 1935, he said, "True individual freedom cannot exist without economic security." He described the program as "a cornerstone in a structure which is being built but is by no means completed."

Nearly 50 years later, President Ronald Reagan pledged "our nation's ironclad commitment to Social Security," so that it would "keep the promises [to seniors] made in troubled times… [as well as assure] those who are still working that they, too, have a pact with the future."

AARP Virginia State Director Jim Dau said today's leaders must follow the esteemed presidents' examples.

"President Roosevelt and President Reagan were giants who demonstrated their leadership by addressing the important issues of their times," AARP Virginia State Director Jim Dau told a crowd in Springfield on Wednesday. "Our current presidential candidates now have the choice to stand in the shadows of those giants, or – by strengthening Social Security for all Americans – cast their own."

Dau told the crowd gathered at the ribbon-cutting of the Take a Stand Springfield office that Virginia voters –key in the upcoming presidential election – want to hear the candidates talk more about Social Security on the campaign trail.

"AARP Virginia and our more than million members here in the Commonwealth think doing nothing is not an option, and we're here to do something about it," he said. #

Dau and dozens of AARP volunteers were joined by Virginia legislators Delegate Dave Albo (R-42 nd), Eileen Filler-Corn (D-41 st), and Mark Keam (D-35 th) who represent northern Virginia area.

Keam lauded the volunteers who are working for the 'Take a Stand' campaign to emphasize the need to focus on Social Security during the presidential campaign.

"You can't make a difference if you don't take a stand," Keam said. "You stand on what matters in people's lives.

Albo told the packed room of volunteers that he believes Social Security is a contract with American workers, and that the President and Congress must honor it by protecting the program.

"The sooner we act, the sooner those close to retirement can be reassured of their benefits and younger workers can be assured of a sound retirement decades from now," Albo said.

Filler-Corn said that Social Security must be strengthened for the future, pointing out that one in six Virginians receive a monthly check from the program.

"Every American deserves a secure, healthy, and dignified retirement," Filler-Corn said. "Social Security must be kept strong for seniors, people with disabilities, and future generations."



Dau said the average Social Security recipient in Virginia draws a benefit of $1,300 per month. That benefit will be cut to $1,005 in 2034 if nothing is done to update the program.



"We believe that anyone running for President should be a strong enough leader to address difficult challenges like Social Security's long-term wellbeing," he said.

Social Security provides vital income to more than 1.4 million Virginians.

' Take a Stand' is AARP's 2016 election accountability campaign. It demands on behalf of all voters that presidential candidates take a stand on their plans to update Social Security. Dau said AARP is leading the charge for action on Social Security because Virginians can't afford for their benefits to be cut.

The ' Take a Stand' effort holds candidates accountable for laying out their Social Security plans as AARP informs voters of all candidate plans through advertising, social media, grassroots outreach and publications. At the new campaign headquarters, AARP Virginia volunteers will make calls to discuss with voters the need to update Social Security and encourage candidates to take a position on keeping this important program solvent for future generations.

The Social Security Act was signed into law by President Franklin D. Roosevelt on August 14, 1935.

The nonpartisan AARP has more than 1 million members in Virginia and does not support or oppose any political candidates, nor contribute any money to political action committees, campaigns or super PACs. AARP has more than 1 million members in Virginia. Learn more about AARP Virginia and Take a Stand at the AARP Virginia website, on Facebook and Twitter, where we tweet as @AARPVa.

AARP is a nonprofit, nonpartisan organization, with a membership of nearly 38 million that helps people turn their goals and dreams into 'Real Possibilities' by changing the way America defines aging. With staffed offices in all 50 states, the District of Columbia, Puerto Rico, and the U.S. Virgin Islands, AARP works to strengthen communities and promote the issues that matter most to families such as healthcare security, financial security and personal fulfillment. AARP also advocates for individuals in the marketplace by selecting products and services of high quality and value to carry the AARP name. As a trusted source for news and information, AARP produces the world's largest circulation magazine, AARP The Magazine and AARP Bulletin. AARP does not endorse candidates for public office or make contributions to political campaigns or candidates. To learn more, visit www.aarp.org  or follow @aarp and our CEO @JoAnn_Jenkins on Twitter.